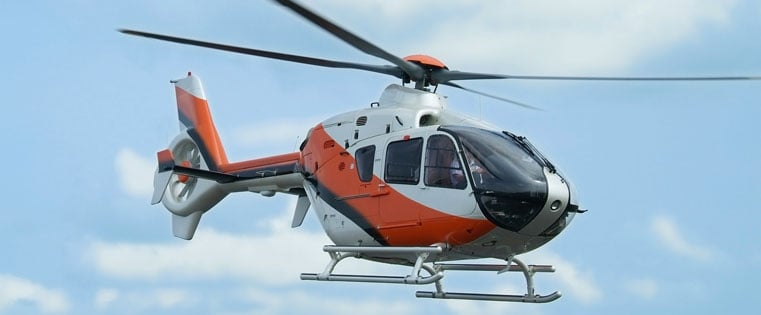 Takeoffs and landings, friction and fatigue, these are just a few of the demands on aerospace bearings. Should designers choose Rulon J tape or Teflon® tape for an aerospace bearing application? Which material can resist the challenges of wear and corrosion in aerospace and aviation? We tested both materials, and this is what we found.
A major manufacturer of helicopter components contacted us to improve the performance of the cowling rub strips on their helicopter body panels. The strips are riveted to the body panels of the copters, and are designed to stop the "rub" and wear caused by engine vibration.
Virgin Teflon tape worked in this application initially, but our client complained that it would eventually wear from the extreme friction that occurred over hundreds of takeoff and landing cycles. Each tape failure caused the copters to be pulled to the maintenance hangar, which resulted in lost flight time, and high Teflon replacement costs.
Rulon J, on the other hand, outperformed all tests and gave the client the extended wear they needed. Rulon J is a reinforced material that provides up to 3x the bearing service life of other materials. It also reduces friction and works well against soft mating materials such as composites, 316 stainless steel, aluminum, mild steel and brass. It is made of a specialized filler which gives it better tolerance and stability, even in the wide-ranging temperature conditions of a helicopter in flight.
The winner? Rulon J exceeded the applications requirements, in fact, all Rulon formulas can be etched with pressure sensitive adhesives (PSA) added. As an added bonus, Rulon tape provides a better sound barrier against engine noise.
Choose Rulon J for:
Abrasion resistance
Lower maintenance
Grease-free operation
Reduction of stick/slip
Good noise insulation
Do you know how to identify genuine Rulon from counterfeit? Read our technical white paper to find out how! Or request a quote for a custom width of Rulon J tape today!