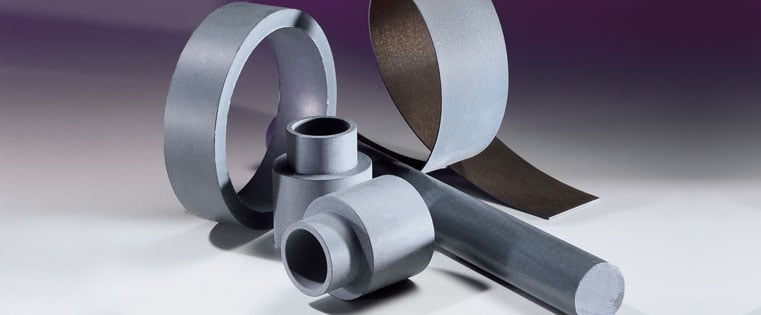 I had a great conversation with a machinist who wanted to compare Rulon 142 and Turcite B; two common materials used for slide and linear bearings. Although both materials are PTFE- blends, they each possess unique characteristics. Here's a review of some key attributes and applications:
History
Rulon 142 was originally developed to address the market need for a pure product given that (at the time at least), Turcite B contained reprocessed material.
One of the chief complaints with Turcite was that customers noted that large flakes of bronze separated from the material, which left a void. These particles also caused scores and streaks on the mating hardware. After evaluation, it became clear that the amount and makeup of the metallic oxide pigment was the primary inhibitor.
To address this concern, Rulon 142 was developed using special screening techniques to improve the uniformity of the bronze distribution. The process was also adjusted to hot form, which gives better stress relief over extruded Turcite. The end result was an improved, cost-effective bearing material.
Applications
Rulon 142 is an excellent material for high-load, high-speed linear guideway liners for machine tools. It is also a great choice for rebuilding machine tools where efficiencies and tolerances have been lost over time. Today, Rulon is commonly used as a good insurance policy against possible lubrication failures in machine tooling.
Turcite B is a popular linear bearing that is also used in the machine tool industry, as well as for seals and wear rings.
Ultimately, Rulon 142 linear bearings are a cost-effective alternative to Turcite B.
Look to Rulon 142 for:
Exceptional vibration resistance
Superior mechanical strength
Good dimensional stability
Elimination of stick/slip
Uniform friction
High-thermal dissipation
Good stability
Ready to learn more about Rulon 142? Check out the video below for common applications and advantages. Or get the Rulon bearings White Paper for additional details.