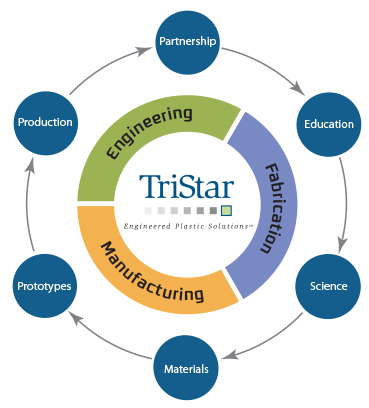 The TriStar advantage means we have a comprehensive circle of services that include:
We have all the resources you need, when you need them. No more cobbling together a team to get the job done. We have it right here for you… In-house.
We can assist you with everything from design to building your prototypes. And when it comes to material selection, we have one of the widest selections of products available today.
Most of our competitors provide just one area of service, but you'll be hard-pressed to find another company that offers, well, everything.
At TriStar, the Advantage is Yours:
A partnership as your in-house plastics engineering department.
Engineering assistance to choose the right design and the best material.
Prototype services to perform the appropriate test in your application.
Manufacturing capability delivering superior quality at a competitive price.
Would you like to learn more about what we can do for you? Call toll-free today at 1-800-874-7827.