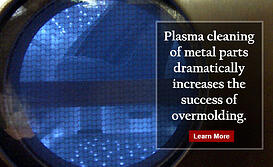 We've had a few questions lately about the best method of bonding rubber to aluminum before overmolding. It seems this bonding combination poses a tough challenge. And in many cases, we're finding that companies want to achieve better bond strength without using harsh solvents. So how can you achieve one without the use of the other? Plasma cleaning is the answer.
Plasma vacuum cleaning prepares metal substrates by removing all contaminants without the use of solvents, and with no damage to the components. Plasma is a one-step and solvent-free process to improve bonding silicone rubber to aluminum ― or virtually any other material combination. Because when you begin with a spotless component you can dramatically increase the success of overmolding.
You can check out our video for additional information or submit a Surface Modification Design Sheet to submit your specs for a quote. Learn how surface modification can also help prepare polymer substrates for bonding.