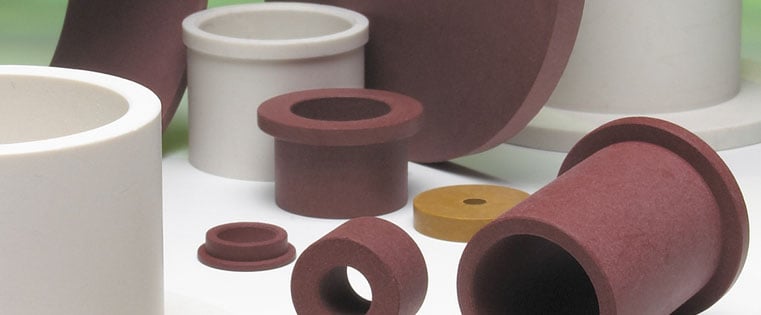 I've just returned from a few days of customer site visits, which is always a great experience. I enjoy touring the manufacturing plants and learning more about our customers and their bearing challenges. On this trip I was asked about Rulon AR and Rulon LR, two of the over 300 different formulas of Rulon bearing materials. Our customer had some old design prints on file, and could not find the original Rulon formulas specified on the prints. Turns out, their old designs specified Rulon A and Rulon LD; materials that are no longer in production, here's what we reviewed:
Our client had been using Rulon A and Rulon LD; two of the original Rulon compounds that were in widespread use from 1950s through the mid-1980s. The materials (both maroon in color,) were actually remanufactured and renamed by Dixon in 1988; Rulon A became AR and Rulon LD became LR. At that time, it was discovered that a constituent of the maroon pigment was carcinogenic, so the necessary formulation changes were made.
Although the formula changed nearly thirty years ago, the materials have retained their self-lubricating properties to deliver excellent wear and friction, plus their signature maroon color. In fact, both are NASA approved for use in LOX service.
The primary application is a seal or gasket material because it is flexible and responsive. Rulon AR is ideal for seals and the bonded coatings of slide surfaces. AR excels in automotive applications such as shaft seals and piston cups for gas meters, or anywhere where high physical properties are required.
Is the go-to material for general purpose Rulon applications. Since the material is stiffer and has good deformation resistance it's excellent for bearing or structural components.
Both Rulon AR and LR are versatile design materials with extremely low outgassing in vacuum service. They require a minimum 35RC hardness on mating hardware due to the abrasive nature of the filler and are available in rod, sheet, tube and Rulon tape.
Here's a handy Rulon comparison chart to help you review the exact specification of these unique materials. Have a question for our Experts? Submit them here! We're happy to help!