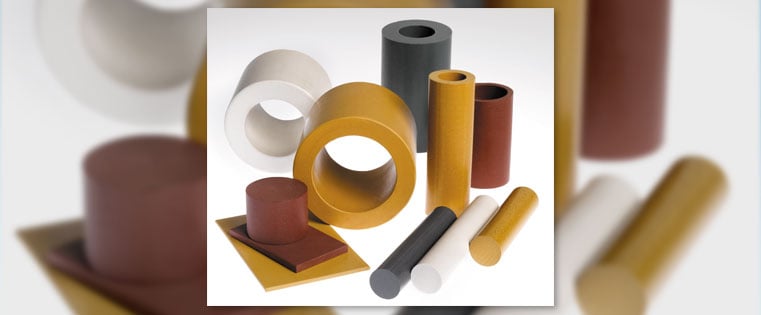 Have you heard about the newest Rulon formula, Rulon 1834? It's an exciting addition to the Rulon fluoropolymers product line. You may already know that each Rulon formula can be custom blended with fillers and pigments, but did you know that Rulon is available in shapes and forms like rod, tube, tape, or even custom fabrication to your specs? Let's review some options:
All Rulons offer similar temperature ratings, chemical resistance, friction and wear values. But when it comes to choosing a shape, much will depend on the intended function of your part, your delivery timeline, and your budget:
Rulon tape
Need to prevent metal-to-metal contact? Consider Rulon tape, which is also known as bearing tape. It can be cut to any length, and is available wound flat or spiral shaped. Tape prevents metal-to-metal contact between piston rods/cylinders and mating hardware in hydraulic and pneumatic applications. It guides the bearing between the metallic components during stroke and static movements, or can act as a barrier for insulated wire.
Rulon rings
Solid and split piston rings can be designed with any number of joint, length and diameter configurations, and with unique performance attributes.
Basic shapes or standard forms
In a rush for off-the-shelf parts? Rulon is available in standard sleeve, flange, thrust, mounted and spherical shapes for use as standard plane bearings. Sizes are also compatible with bronze standards for precise hardware fitting. Explore the Rulon comparison chart.
Molded rods, sheet or tube
Want to machine your own parts? Rulon can be easily machined, but there are some considerations. Get the Essential Machining Guide technical paper for specific instructions. With the right tools and training, your shop can finish Rulon via sawing, grinding, tapping threading, reaming, turning, screw machining and etching. With some expert advice we can even help you reduce scrap loss to save on material costs.
Have a tight delivery and need to outsource your fabrication? We can help you here, too. Custom options are virtually unlimited, just fill out an engineering worksheet with your specs, and we'll set you up a quote. With outsourcing, you'll never have to buy and maintain your own equipment, and we can help you make your production delivery goals.
Let's start a project together!