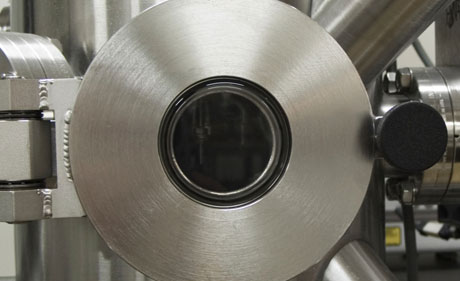 Rugged Rulon 1337 for slide pads and rolling element retainers
When a major manufacturer of vacuum chambers required a self-lubricating bearing to replace their failing metal components, we knew Rulon® bearings would fit the bill. Our Engineering Experts took a site visit to the client, and recommended Rulon 1337; a material that is comprised solely of FDA-compliant materials, and offers durability and extended service with most mating surfaces.
Our client's vacuum chambers are used in a range of applications from food processing to industrial testing. The systems remove air and gases via a suction pump, which, over time, can impact the structural integrity of chamber components. Rugged Rulon 1337 plastic bearings have promoted superior performance in two areas of this demanding application:
Slide pads provide superior support and service
Vacuum chamber bearings are generally constructed of stainless steel or bronze, which many designers mistakenly believe are superior materials. But Rulon 1337 bearings provide the rigid support and load capacity to excel as slide pads in X, Y, Z linear slides, and they rarely need replacement. Since switching to Rulon, our client notes the bearings have provided longer service in this low-pressure environment.
Rolling element retainers have self-lubricating design
Our client also needed replacement retainers for their rolling element bearings, with a key requirement for maintenance-free service. Rulon 1337 has delivered again, as it features a self-lubricating design, compatibility with most mating surfaces plus good friction and thermal properties. With exceptional resistance to deformation plus solid construction, Rulon 1337 has solved these vacuum chamber challenges!
Is Rulon 1337 the right choice for your application? Check out our Rulon Materials Comparison Chart to review exact specifications, or explore new applications in our Rulon Technical White Papers.
Did you know that TriStar also offers Surface Modification of plastics via vacuum plasma? You can learn more by completing an Application Worksheet.