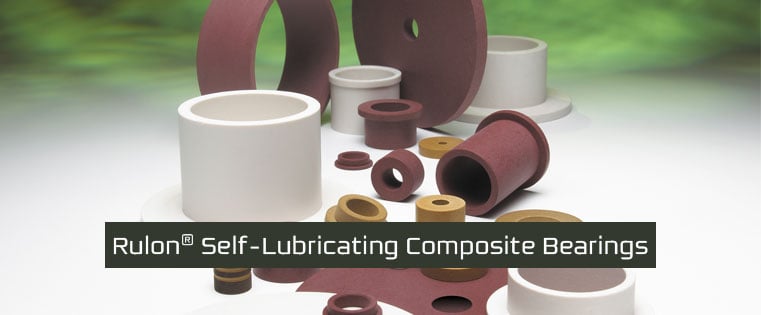 Self-lubricating bearings can lower your bearing maintenance costs without sacrificing performance. But have you ever wondered how they lubricate? There are two common systems for lubrication; smearing systems and debris systems which contribute to the surface finish. Here's a review:
Plastic plane bearings are self-lubricating via two unique processes:
Smearing systems - Smearing occurs when small amounts of lubricating media such as PTFE, silicone, graphite or MOS2 are wiped into the surface micro-finish.
Debris systems -

Debris systems process when small particles of the polymer are removed during normal operations and develop plastic "ball bearings."
Next, let's discuss these two processes in detail.
Smearing systems are typical of PTFE and PTFE-filled polymers. As the shaft makes initial contact with the mating contact surface, softer lubricating material is wiped into the micro-finish of that surface, which builds a thin film of lubricant. The lubricant remains in place and will not migrate, which helps to reduce friction and wear on both the shaft and the bearing.
Some common materials for producing self-lubricating bearings include:
Rulon
Fluorosint
PTFE Blends
Delrin AF
Ertalyte TX
BG PEEK
Graphite PI
TriSteel PT/PI
Ultracomp
The largest family of self-lubricating bearing materials are the filled PTFE materials. And the best known of these is Rulon, a family of blended PTFE materials designed for bearings, seals and structural components.
Debris systems are found in harder thermoplastic or thermoset polymers that deposit particles of the actual resin between the shaft and bearing. These types of materials tend to be less efficient, since the debris remains on the surface area between the dynamic faces rather than embedding. Over time the debris is "cast off" as residue and the wear process tends to be on a slow but continuous basis. Debris materials have inherently low friction, but not as low as smearing systems with migratory lubricants. Debris materials are generally less costly than the smear materials, but also have lower P, V, PV ratings and limited temperature ranges.
Common debris system materials include:
Nylon 6/6, 6/12
Acetal/Delrin 100/500
Cast Nylons
UHMW
Want to review any of these self-lubricating bearings materials with our engineering experts? Fill out a Engineering Worksheet to submit your specs!