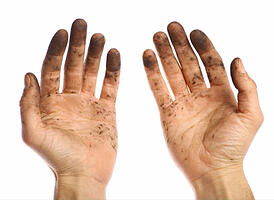 "Why do bearings fail?" It is a pivotal question that we hear all too often.
Interestingly, one of the primary reasons for bearing failure is related to lubrication.
Without proper lubrication, metal bearings can overheat and wear prematurely. And by "proper lubrication" we are referring to a total lack of lubrication, use of the wrong type of lubricant, or even the evaporation that occurs through oxidation or environmental exposure. Self-lubricating polymer bearings eliminate this concern entirely since they are oil-free. So what are some other benefits of self-lubricating bearings over metal?
No maintenance = cost savings

Plastic bearings are the no-maintenance replacement for bronze and metal-backed bearings. Their oil-free/dry-running nature reduce time-on-maintenance and unplanned production stoppages when a bearing fails.

No grease = resistance to debris

Dirt and dust from agriculture, construction and other punishing environments are no match for self-lubricating bearings. Since they run dry, they resist environmental debris.

High-tolerance = chemical and sanitation tolerance

In certain industries such as food processing and medical applications, regulations call for frequent wash downs. Unlike metal bearings, plastic bearings easily tolerate these corrosive chemicals.
These are just a few of the many advantages of self-lubricating bearings. Here's how they work to eliminate greasing.
Interested in learning more? Let our Experts answer your questions, or see an overview of self-lubricating bearings.