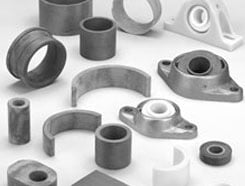 Our plastic bearing blog has covered hundreds of topics over the years ― everything from questions on the surface energy of plastics to the advantages of high-performance bearings aboard America's Cup. This week we wanted to take a "back-to-basics" approach by reviewing some of the common types of plastic bearings.
As a quick review, bearings enable rotational or linear movement, and are designed to reduce friction for easier movement and speed. Here are 5 common configurations:
Flange bearings

Flange bearings are designed to handle both axial and radial loads. In some designs the flange is also used as a locating mechanism to hold the sleeve portion in place. Flange bearings require a little more machining to the housing but can solve the unique load conditions of a shaft and some type of thrust surface.


Mounted bearings

Mounted bearings come in the form of pillow block or flange style housings. These can be in many different forms with 2, 3 or 4 mounting holes. Mounted bearings can be retrofit with several different plastic plane bearing materials to improve wear and reduce or eliminate lubrication.


Thrust bearings

In plane bearing speak thrust bearings are simple washers made from any number of materials. These are generally thin, easy to install and prevent metal on metal contact in any thrust load conditions. Much simpler to use than ball or needle thrust bearings and do not require lubrication of any kind in most conditions.


Sleeve bearings

The most common plane bearing, sleeve bearings, are simple ID/OD/Length cylinders that are designed to carry linear, oscillating or rotating shafts. The key to successfully designing a plastic sleeve bearing is paying attention to temperature, P, V and PV ratings for the material and match it with your application. Watch our video on designing plane bearings for more information on this process.


Spherical bearings

Spherical bearings are designed to allow for shaft misalignment, as they can rotate from two directions. Spherical bearings typically support a rotating shaft in the bore that calls for both rotational and angular movement.
For applications with unconventional parameters, the above standard bearings may not be the right fit. Instead, the best solution may be custom-fabricated bearings.
See our Materials Database for more technical data on the above bearings, or just Ask an Expert!