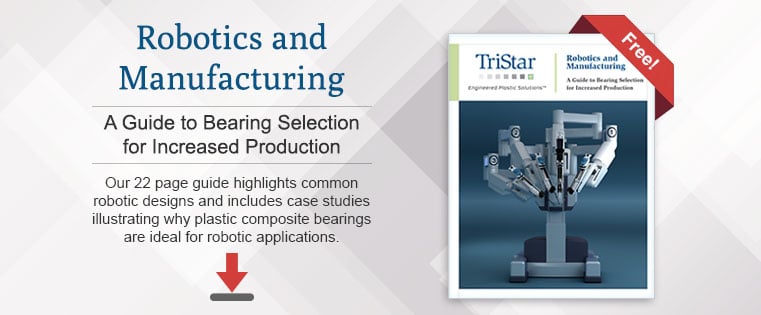 Robotic designs are becoming more sophisticated. They're powering everything from heavy-duty auto assemblies to delicate surgical procedures. But which type of bearing is best for YOUR application? Which bearing qualities should you look for to improve your manufacturing output?
We've got the answers in our new guide!
Our new guide – Robotics and Manufacturing: A Guide to Bearing Selection for Increased Production – is now available to answer some of your key bearing questions. The guide delves into why robots are critical to manufacturing, and reviews the anatomy of various robot designs and industrial applications. From cartesian to gantry and spherical robots, you'll learn about the advantages of each design for industrial manufacturing.
The guide examines the operational efficiencies of different bearing types, including metals, bronze and composites. It shares how our partners have overcome common design challenges through industrial case studies in:
Auto assembly

Food processing

Medical applications

And more
Ultimately, the guide can help you explore the various types of bearings available so that you can make an informed purchasing decision.