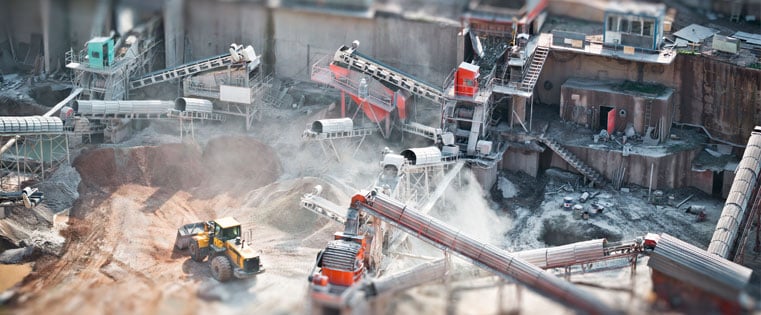 Dust and debris are a challenge to all bearings. but impact some bearing types more than others. Food processing lines, paper mills, construction sites and other environments produce airborne contaminants than can clog and impede bearing rotation. And lubrication levels play a key role in bearing success or bearing failure, too. Let's clear the dust to review bearing attributes for overcoming a dusty environment.
Why is dust a problem in bearing performance?
It boils down to length of service. A contaminated bearing will simply fail sooner, which can impact production rates, as manufacturers are forced to stop their equipment for maintenance and replacement. Dust can be in the form of sand (from paper processing), food debris (generated from peanut processing), metal particulate (kicked-up from machining) are just a few examples. No matter the cause, as dust accumulates, it becomes abrasive, which lowers the effectiveness of seals and bearings alike.
Dusty environments are a big challenge for rolling element bearings, as particulate pits the rollers. racers and bearing surface. Dust thickens into layers as it accumulates (forming a lapping compound), which interferes with the clearance between the bearing and shaft. And without good clearance, bearings will stop running and equipment will seize.
How can you stop dust accumulation?
We have a few solutions. A good filtration system is essential to capture larger contaminants. Good compatibility between bearing and seal should be considered. Regular cleaning of your metal bearings and housings will also make a difference; it's critical to remove excess grease by following a regular maintenance schedule. Because the more grease build-up, the thicker the lapping compound.
Beyond these preventative measures, you can also eliminate the problem of lubrication buildup entirely by considering a non-metal, composite bearing design. Although all bearing types require a level of lubrication to block contaminants from entering the bearing surface, self-lubricating bearings operate in a way that does not produce excess grease. They can reduce overall bearing maintenance costs, and promote a cleaner manufacturing environment. An extended service lifetime is another benefit; you can learn more about avoiding bearing failure here.
Connect with an Expert with any questions about the right bearing type for your environment!