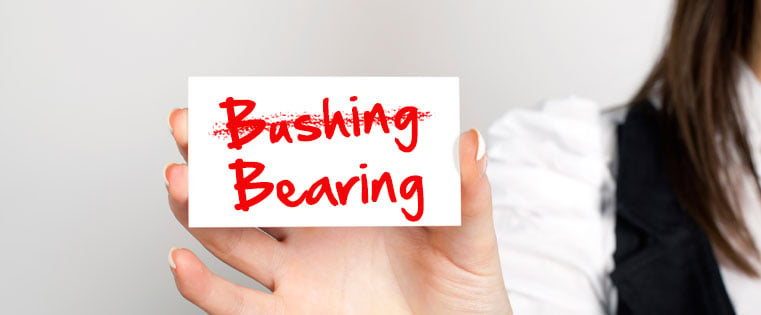 When should you choose bearings vs. bushings? I'm often asked about bearing nomenclature (see our blog entry on plane bearings vs. plain bearings). So today let's set the record straight on bearings and bushings:
A bearing is designed to "bear" or carry stress or loads in various design applications, but to add a layer of confusion, bushings are often referred to as plain bearings or sleeve bearings. Generally speaking, the difference between bushings and rolling element bearings in that bushings are designed as a single part, while bearings can have multiple parts.
Both bearings and bushings can be composed of metal or plastic composites, or a combination of the two. Plastic bearings provide the advantages of a self-lubricating design (never needs grease), plus corrosion and chemical resistance, and superior longevity and wear.
The automotive industry tends to use the terms bushing and bearings interchangeably, and they often employ bearings with a plastic-lined bearing with a bronze interlayer (such as TriSteel bearings). These bearings excel in heavy-duty sliding, oscillating and rotary applications, such as auto transmissions, shock systems and gear boxes.
Ultimately, your application requirements will dictate the bearing/bushing decision! Want to review bearing nomenclature? Or have a technical question answered? Get in touch with the bearing and bushing experts!