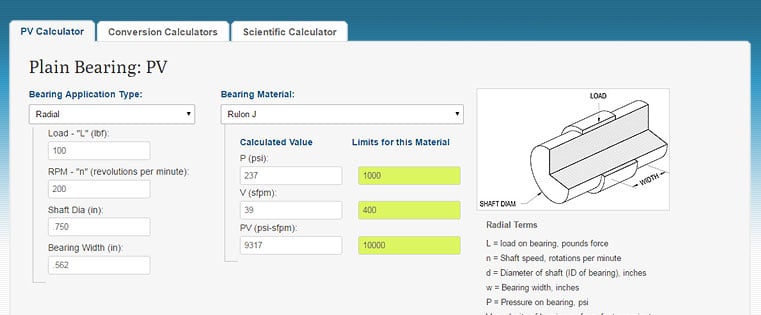 Need assistance with your bearing engineering and dimensions? Want to find all the tools you need for complete bearing calculations in one convenient spot? Check out the Plain Bearing PV Calculator, Conversion Calculators, and Scientific Calculator. Here's why we feel these tools are critical to the success of your bearing design:
Plain Bearing PV Calculator - Link
You may remember our past discussion about PLAIN bearing vs. PLANE bearing, but no matter which way you spell it, this plain bearing calculator is a critical engineering tool. It can help you visualize the constraints and limitations of your bearing application. You simply plug in the bearing size you need for your equipment, and we help you estimate the pressure, speed and PV value your part may be exposed to.
Choose from these Radial terms:
L = Load on bearing (pounds force)
N = shaft speed, rotations per minute
D = Diameter of shaft (ID of bearing), inches
W = Bearing width, inches
P = Pressure on bearing, psi
V = Velocity of bearing suface, feet per minute
PV = Pressure x velocity
The Plain Bearing PV Calculator also helps you with thrust bearing/washer applications.
Unit Conversion Calculators - Link
Just as the name implies, this set of six handy calculators helps you to convert your engineering units from one set to another via an easy drop-down menu. Choose from the following bearing engineering tools:
Metric
Temperature
Weight
Pressure/Force Area
Density
Thermal Conductivity
Together, these converters can give you a simulated design experience.
Scientific Calculator - Link
This tool will help you double check calculations when sizing a bearing. It also gives you back-up data for checking and verifying bearing or structural material requirements.
As you incorporate these tools into your design, keep in mind that these numbers are just one piece of the puzzle in determining the right polymer of composite fit. Each material has unique design nuances that may impact these numbers. We also recommend that you design with a good safety buffer in place to ensure the best overall bearing performance. Our Bearing Engineering Experts can walk you through, or get your copy of the Plastic Bearing Design white paper for more technical tips!