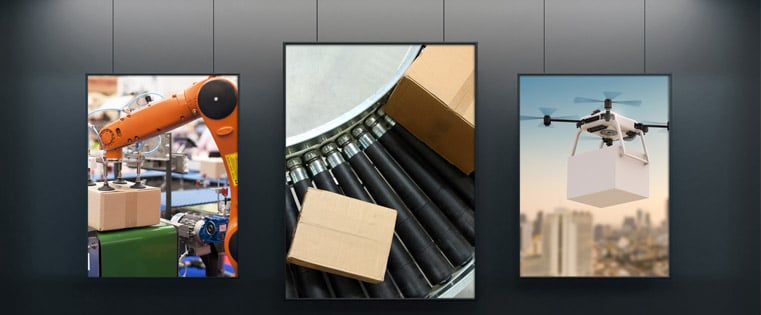 Last month's news of Amazon acquiring Whole Foods got me thinking of the dramatic impact this acquisition will have not only on retail shopping, but on the packaging industry as a whole. Amazon will need to move more products, more quickly to maximize production and to keep perishables from spoiling. From conveyor rollers to pick and place robots – even delivery drones – plastic bearings can help enhance production levels. Here's how:
This new marriage of brick and mortar stores and on-line shopping will likely result in the need for more distribution centers to accommodate huge inventories. As Amazon works out the details of this new delivery model, there's no doubt that their production will grow exponentially. Plastic bearings might be the right solution for their packaging equipment based on these key benefits:
Conveyor assemblies
1) Lightweight bearing materials mean less energy exerted on the conveyor line
Traditional steel and metal rolling element bearings are significantly heavier than lighter plastics and composites (up to 5x), so they require more power to turn and operate. By installing lighter polymers and composites on packaging equipment, manufacturers can realize a big savings.
2) Good shock resistance to correct roller alignment
As conveyor rollers spin faster to accommodate more packages, the assemblies are prone to misalignment, which can slow production. Plastic bearings for the packaging industry have a high tolerance for misalignment; they can overcome even significant shock to keep conveyors aligned and moving. Metal bearings do not have the same level of ability.
Here's how conveyor bearings work.
Robotic pick and place
3) Thin walls for greater design flexibility
Robots are critical to a high-speed production environment. Yet the standard metal rolling element bearings used in most robotic designs require a thick wall to accommodate the moving racers. But thick walls can hinder the tight tolerances required of robotic pivot points. Lightweight plastics give robots greater dexterity to bend and pivot and improve overall production.
Drone delivery
4) Plastic bearings give drones good aerodynamic ability
It's just a matter of time before drones are a regular product delivery method. When that time comes, plastic bearings will give drones and other delivery aircraft superior lift, and pivot properties to allow for a smoother delivery. See the video below.
How do you think the Amazon effect will impact future production and delivery models? Will plastic bearings be part of the solution for packaging equipment? Tell us what you think below!