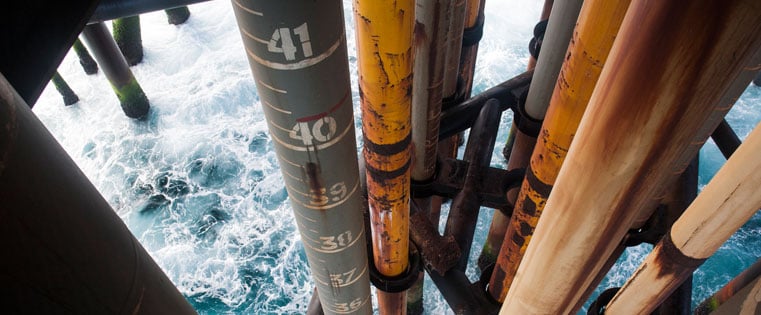 Thanks for your feedback on our new Industrial Bearings white paper! While the paper covers bearing innovations in ten industries; today we spotlight energy bearings. Did you know that Rulon PTFE bearings can improve equipment output for the oil and gas industry — without needing maintenance? These top 4 benefits give oil drills, pumps and hydraulics the stamina to excel:
Standard operating conditions for energy bearings are rigorous; equipment must operate 24/7/365, in gritty, outdoor locations and temperatures can vary widely. Prolonged exposure to these conditions can cause traditional metal bearings to fail from fatigue and corrosion.
1) No lubrication and lower friction
All bearings need some form of lubrication to reduce friction. But the question becomes do you want to apply this lubrication manually, or depend on the bearings to self-lubricate?
Rulon 945 energy bearings self-lubricate to generate just the right level of lubrication to keep equipment running at optimal levels. With self-lubrication, there's no excess grease, which reduces the grease becoming a lapping compound to attract dust and debris.
2) Low deformation under high loads
Bearing integrity is never compromised with Rulon energy bearings, even with high loads. Rulon maintains exceptional stability in high-cycling oil drilling and has one of the lowest deformation rates under load (< 1%).
3) Heat dissipation in thin design
Thin-walled Rulon energy bearings offer good heat dissipation and PV even with a thin wall design. Heat dissipation is critical to keep bearings running smoothly. In this case, a thinner design reduces heat buildup better than thick-wall (metal bearings). Rulon energy bearings withstand temperatures from -400° F to +550° F.
4) Abrasion resistance
High impact and abrasion are typical conditions as drills move through layers of shale rock. Rulon bearings resist this abrasion, and shows little wear against mating equipment. And stick/slip is never a problem with Rulon. Read about energy bearings used in oil fracking equipment.
Simply, Rulon 945 has wear properties comparable to bronze, powdered metal and steel, but without the need for grease. These energy bearings excel in thermal, chemical, and stability demands.