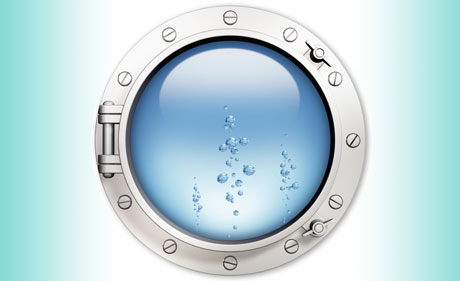 Summer seems an appropriate time to talk water ― given the seasonal spike in municipal water demands plus the need for the chemical treatment of pools ― the market for liquid-submersion bearings is high at this time of year. And no bearing material performs better in diverse liquid applications than Rulon W2.
A filled-PTFE can be used in a wet application? You might be asking this very question, since filled-PTFEs are generally reserved for dry applications only. But Rulon W2 has a unique additive that gives it stability when wet. The material delivers one of the best wear and friction rates, plus good thermal dissipation for a superior bearing lifespan.
Fresh-water meter bearings
A leading manufacturer of industrial meters contacted us seeking a replacement for an Oilite bronze bearing that was leaking oil into the water. They also complained that the bronze hardware was incompatible with the stainless-steel mating shafts. Given the advent of automated meter-reader systems, these issues posed a significant reliability problem. Self-lubricating Rulon W2 solved both dilemmas by eliminating oil leakage into the clean water, and improving mating tolerance. Our client now reports years of reliable service.
Chemical tank submersion
We also worked with a leading supplier of chemical tanks to replace a Torlon polyamide-imide (PAI) component used in heavily-chlorinated chemical tanks. The Torlon surface failed from a combination of chlorine exposure and metal-to-metal hardware contact. With Rulon W2 bearings in the tank, our client has extended bearing lifetime and saved on replacement costs.
Rulon W2 is your go-to material for most liquid applications, with the exception of salt water. For salt water bilge pumps and other marine uses, consider the advantages of Rulon 1439. Or get your free copies of our Rulon technical papers to explore more!
Clearly, Rulon is the superior choice for performance in fresh, chemical and salt water applications. Watch our Rulon W2 video, below.