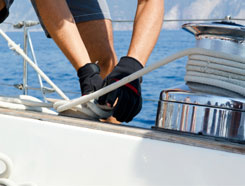 Reading a recent article about the America's Cup in Plastics News, I was drawn to this sentence:
"(Boat) speeds can exceed 52 miles per hour. As a result, boat control, material and mechanical integrity… are critical factors."
This is something we hear often from the builders of fine sea craft, who are not only faced with the technical and mechanical challenges of designing for a demanding environment, but must also source materials suitable for elite racing. Fortunately, there are many innovative materials currently available; lightweight plastics to reduce drag; bearings that are resistant to corrosive salt water; plastic components that remain structurally sound at high speeds.
Here are just a few formulas and some successful at-sea applications:
Rulon® J produces very-low friction without lubrication and is compatible with stainless thrust and slide pads
Rulon FCJ bearings use a specialty liner for high-compressive strength with low friction on marine cranes
CJ bearings have pioneered the use of galvanic insulators for superior wear and corrosion resistance aboard marine lifts and davits
Ultracomp bearings have received the American Board of Shipping's Product Design Certification. UC 200 bearings can hold high-point loads without lubrication, and excel as sheave bushings on spinnaker mounts
Elite shipbuilding is a specialized craft demanding the best of materials. Read how Ultracomp bearings have helped break a World Speed Record.
What challenges are you facing in marine design?