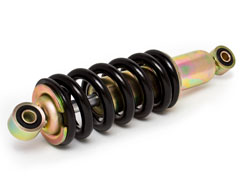 Q: We supply gear and strut components to auto manufacturers and need a versatile bearing for high-speed reciprocating and rotary applications. Durability, performance and price are all key factors. Any recommendations?
A: Your best bet is a material with stainless steel substrates ― and TriStar is the only plastics company to manufacture them. A reinforced bearing material will protect your machinery in the rare instance of a shell breakthrough. You may consider…
TriSteel bearings, which excel in shock absorbers, piston rods and pump, gear and compressor applications. TriSteel P4 bearings are one of our newer materials, and initial stroke tests confirm fiction coefficients as low as 0.04 dynamically and the same statically. With the P4, running frictions are constant, and stick/slip is a non-issue to give smoother running operation.
TriSteel is ideal for applications with extreme side loads and load variables, and critical temperature requirements. Common heavy-duty applications include:
Automotive shocks
Motorcycle struts
Micro-compressors
Hydraulic gear pumps
Refrigeration compressors
Stamping machines
Want to explore TriSteel bearings for use in a rail application? Here's your free copy of our Railcar Manufacturing White Paper. Or if you would like a custom consultation on reinforced bearings, just Ask the Experts!