Meldin®: A Versatile Polymer Family Featuring High-Temperature Polyimides

Meldin® is a versatile family of polymers developed by Saint-Gobain.
With multiple product lines and a broad array of formulations, Meldin® materials offer a strong fit and excellent value across a huge number of applications.
The lineup of Meldin® materials is so diverse that it can be difficult to know where to begin exploring their potential. That's precisely why we created this guide.
Below, you'll find an overview of Meldin® and some of its most important product lines. Along the way, we provide links for further reading on specific Meldin® products. Or, if you're ready to take a deep dive into detailed material specifications, TriStar's full range of Meldin® products is included in our interactive materials database here.
Rather than attempting to provide encyclopedic details on every Meldin® product in this space, this guide focuses on the high-temperature thermosetting polyimides that epitomize the latest capabilities of the Meldin® material family—the Meldin® 7000 series.
Prefer to read this later? We'll email you a PDF.
What is Meldin® and why is it an important materials option for manufacturers today?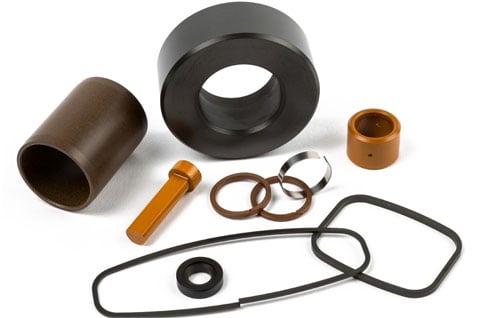 In short, Meldin® is a family of high-performance polymers, available in a number of product lines and formulations, which can offer combinations of extreme temperature resistance, exceptional dimensional stability, and wear-resistance capable of delivering outstanding service life in some of the most hazardous environments around (like a plasma-filled vacuum chamber, the inside of a jet engine, or floating in space).
Saint-Gobain's Rulon® product line was initially developed in 1957, and Meldin® was originally designed as a filler for these materials in the 1970's. Meldin®'s broader potential soon became apparent, and it was launched as its own family of thermoset materials in 1980. Over time the lineup expanded to include more specialized thermoset and thermoplastic high-performance materials.
Saint-Gobain continues to innovate with the Meldin® family to this day, developing advanced solutions like the Meldin® 7000 product line of thermoset polyimide materials. Historically, manufacturers who needed high-temperature, high-performance polymer materials with exceptional dimensional strength were faced with a narrow market of high-cost solutions—and limited choice. But today, Saint-Gobain's innovative Meldin® materials directly address this issue, providing manufacturers with a high-temperature polyimide (the Meldin® 7000 series) that matches the performance of the competition, and a price point that offers superior value.
TriStar Plastics is proud to partner with Saint-Gobain as the exclusive North American distributor of Meldin® products. We have seen up close how these materials can help address incredibly tough challenges, and we are excited to offer them to our customers while supporting them with our value-added approach to materials engineering.
About Saint-Gobain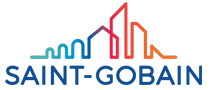 Saint-Gobain is a world leader in materials engineering, with a 350-year history that dates back to a charter issued by King Louis XIV (the group even manufactured the famous hall of mirrors in Versailles).
With 190,000 employees active across 64 countries, Saint-Gobain is a truly global materials engineering leader which offers some of the most innovative polymers available today.
Meldin® 101: A Versatile Family of Thermoplastic Materials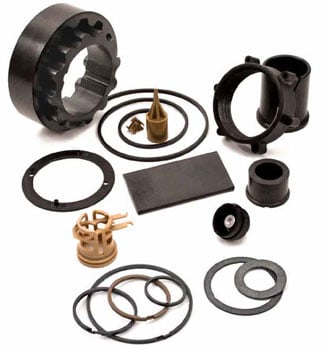 Today's Meldin® materials represent the pinnacle of a decades-long refinement process. They are available in a variety of injection-molding grade product lines including:
Meldin® 1000 Materials – A polyphenylene sulfide (PPS) family of compounds capable of withstanding harsh chemical and other environmental conditions.
Meldin® 4000 Materials – Polyamide-imide (PAI, or Torlon), which can offer exceptional tensile strength and mechanical stability up to 275 C°.
Meldin® 5000 Materials – Based on PAEK and PEEK, which offer metal-like finishes with superior corrosion resistance, weight, and ease of machining.
You can compare the full lineup of Meldin® formulations and explore their detailed specifications in our interactive materials database here.
The remainder of this guide will focus on Meldin® 7000, an advanced thermoset polyimide product line that illustrates the pinnacle of performance, reliability, and value offered by the Meldin® family.
How Does Meldin® 7000 Combine High-Temperature Performance with a High-Value Price Point?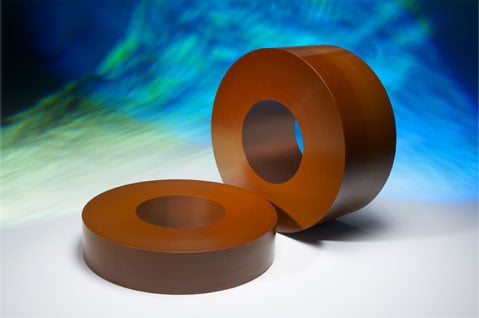 Polyimide materials have a long history that dates back to the 1960's, when they were originally developed by NASA and the Langley Army Research Center (LARC) as a space program heat shielding material. These original "rocket science" applications were indicative of these materials' early value proposition: they were high-performance, but also volatile, costly, and difficult to develop for civilian applications.
But further private sector developments have allowed these materials to be adopted in an ever-widening range of use cases. By employing a pure therm0set material that was easier to process than traditional formulations, new polyimide materials provide their well-known high-temperature performance capabilities at far more efficient price points (and with far greater ease of fabrication) than was possible in the past.
High-performance polyimides like the Meldin® 7000 series are one of the few thermoset materials which can sustain their physical properties all the way up to 600 degrees Fahrenheit—and do so with a consistent thermal expansion rate. The Meldin® 7000 series' temperature tolerance exceeds that of materials like Torlon® and PEEK, which break down at high temperatures. And its physical strength exceeds that of high-temperature alternatives such as PTFE.
What are the most important benefits of Meldin® 7000-Series materials?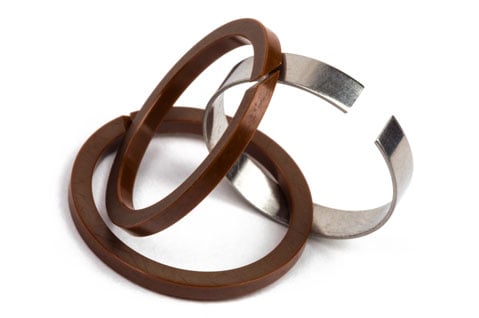 Meldin® 7000-series materials are available as finished parts and stock shapes. Components may be manufactured using isostatic compression, compression molding, direct forming, or as machined parts. This product line offers unique advantages which include:
Exceptional Dimensional Stability at Extreme Temperatures Ranges
Meldin® 7000 series materials offer a unique combination of temperature resistance and strength. In testing, Meldin® materials exhibit less than 0.04% variation from original dimensions after cycling from 73°F to 500°F over a 2-day period. They are also resistant to thermal shocks, helping withstand even unanticipated, dramatic temperature shifts. Meldin® 7022 can even approximate the thermal expansion behavior of aluminum.
Meldin® can retain its dimensional stability at temperatures 100° above that above the point sustainable with Torlon® and PEEK. And it bests the high temperature tolerance of Rulon® by around 50°, while offering superior strength. Finally, Meldin® materials can even thrive in cryogenic applications, with low-temperature tolerance ranging down to -400° F.
High Strength + Low-Friction + Self-Lubrication = Longer Life, Faster Speeds, Higher Loads, and Simplified Bearing Maintenance
Meldin® 7000 series formulations are available with a variety of different self-lubricating fillers (we provide more details on specific formulations below). Self-lubrication can help extend service life while increasing speed and load tolerance.
For components like bearings, self-lubrication eliminates the need for regular re-lubrication, dramatically simplifying maintenance requirements. This ease of maintenance is particularly valuable for hard-to-reach components (like those inside an aerospace engine) and essential for inaccessible components (like those inside a satellite). We provide further details on self-lubrication and how it works in our blog here.
Resistance to Out-Gassing in Vacuum Environments
Meldin® 7000 series materials resist emitting particles, or "out-gassing," in vacuum environments. This capability is critical in applications including space, vacuum-based semiconductor fabrication, and other ultra-sterile healthcare/life-sciences/industrial settings.
Outstanding Value Backed by Meticulous Quality Control and Streamlined Machinability
Traditionally, the market for high-performance, high-temperature polyimides has featured little competition, leading to extremely high costs. The Meldin® 7000 series brings high-temperature polyimide performance to the Meldin® line for the first time. Meldin® 7000 can match the performance of traditionally specified polyimide materials while offering a far more competitive price point.
This "new Meldin®" is set to help manufacturers take greater advantage of polyimides than ever before. And it is backed by a meticulous, end-to-end quality control process.
Are there any important environmental considerations when selecting Meldin® for an application?
While Meldin® can stand up to extraordinarily tough environmental conditions, it is vulnerable to hot water and steam. Meldin® is fabricated using polycondensation, a process which involves a condensation reaction which releases water as constituent monomers are combined. Hot moisture will effectively "re-condensate" the material, causing it to fall apart, the most notable note of caution when considering a Meldin® component.
Meldin® 7000 Formulation Guide: Meldin® vs. Vespel® Comparison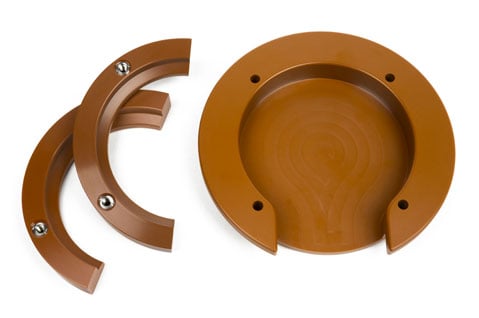 Below, we provide key characteristics for each of the Meldin® 7000 family members. For a deeper look at our full range of Meldin® materials and their specifications, please refer to our interactive materials database here.
The Meldin® 7000 family offers a powerful combination of performance characteristics that few competitors can match. Because Meldin® 7000 materials offer North American manufacturers the only directly comparable alternative to Vespel® materials when choosing a high-temperature polyimide, we provide equivalents for each of the formulations listed below. In general, Meldin® can match the performance of Vespel® while offering a cost advantage in many applications. By offering unprecedented economic efficiencies for applications requiring high-temperature polyimides, the TriStar team believes that Meldin® is poised to create new engineering opportunities. The price point for Meldin® makes high-performance polyimides a viable choice for components where they would have been cost-prohibitive in the past.
While the listing below provides a helpful overview (with links to more detailed product pages), we encourage you to reach out to our engineering team. Like any high-performance material, Meldin® can provide the best value when it is carefully match to the specific requirements of the application at hand.
What are some prototypical applications for the Meldin® 7000 series?
The Meldin® 7000 product line is quite versatile, and its high-temperature performance characteristics allow it offer exceptional value in seals, bearings, sliding surfaces, insulating materials, and much more. Due to Meldin®'s exceptional functional characteristics, it provides outstanding value in challenging industries such as:
Aerospace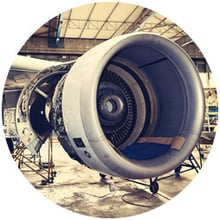 The 7021 series can meet or exceed the meticulous requirements of aerospace manufacturers in both defense and civilian applications. With their exceptional temperature resistance and dimensional stability, Meldin® components may be found in airframe systems such as landing gear, as well as in the pads, bumpers, washers, seals, and bearings of jet engines themselves.
Semiconductor Manufacturing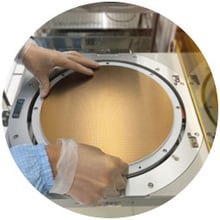 Today, many semiconductor manufacturers make use of a vacuum to facilitate plasma-based etching of silicon wafers. Equipment used in this process must utilize components made from materials which resist out-gassing in a vacuum to avoid contaminating the highly sensitive, sanitized chip fabrication process. Additionally, Meldin®'s high purity, resistance to solvents, and high electrical insulative properties are also instrumental in the semiconductor industry.
Pumps and Transmissions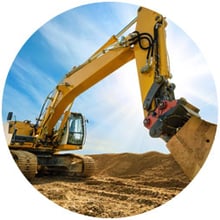 Meldin®'s combination of self-lubrication and high-temperature resistance is a great fit for components such as piston rings and thrust washers. Meldin® can provide a lightweight alterative to metal in the pumps/transmissions found in automotive, off-road, and agricultural applications.
Other Industrial and Life Science Applications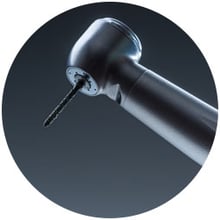 In a variety of industries, manufacturers make use of sliding surfaces or transport modules. In high-temperature sliding-surface applications, Meldin® offers essential characteristics such as wear-resistance and the high-levels of self-lubrication required to prevent scratching proximate materials. In specific applications like glass handling, Meldin can help reduce temperature shocks that cause breakage.
Meldin® 7001 can be found in the handles of plasma cutting torches, where it withstands high heat while insulating the user from electrical energy to ensure safe operation (all while providing superior impact resistance to ceramic alternatives). In the life sciences and healthcare, Meldin® offers a high-purity choice, perfect for high-temperature operating conditions in equipment such as dental drills.
Leverage Meldin® and Value-Added Engineering to Solve Your Toughest Engineering Challenges
We hope this guide has provided a valuable overview of why Meldin® can provide the right solution to a broad variety of material engineering challenges.
In our experience, the best way to maximize ROI for a high-performance material like Meldin® is to ensure that the right materials are aligned to your specific application requirements.
The TriStar team is passionate about learning the ins and outs of every client's industry. There's no substitute for ground-level knowledge of applications and operational challenges, and a commitment to not just selling advanced materials like Meldin, but engineering them to solve chronic business problems. In our experience working with a huge variety of high-performance applications, this consultative engineering approach almost always pays off.
This vision for our engineered polymers is rooted in our belief that material selection matters. In many cases, the right materials can not only increase component lifespan and reduce failures but solve problems that OEM's didn't even know they had.
If you have further questions about Meldin® and what it can do for your application, please reach out to our team using the button below.