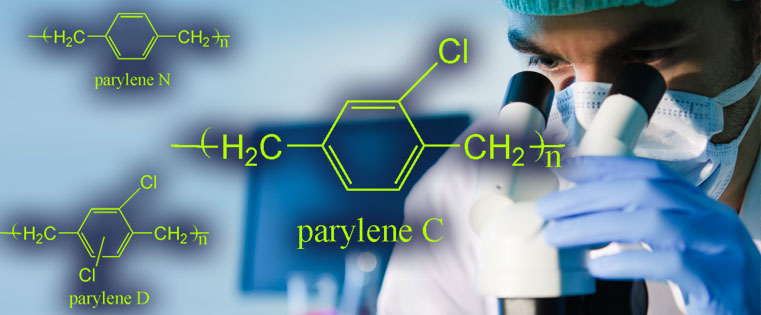 Why should I choose parylene coating for my devices?
This question was asked at a recent site visit, and I thought I'd share some quick facts about the various forms of this highly-effective conformal coating.
Let's begin by stating that not all devices call for parylene coating; it's usually reserved for applications that require very sensitive circuit assemblies such as aerospace, electronics and medical devices. The treatment involves applying a vapor-deposited plastic which produces an extremely thin (and pin-free) isolative coating. This barrier protects assemblies from standard chemical contaminants, plus moisture, oxygen and CO2. To ensure the best adhesion of parylene, products should first be micro-cleaned via plasma surface modification. Once clean, the coating can then be applied in thin layers through a dip, spray or flow method.
Parylene is a lifetime treatment application, and includes four unique chemical treatment types.
Parlyene can be applied to any material, and meets strict FDA and USPVI requirements for medical devices. It also provides low-friction and abrasion- resistance for elastomeric seals, magnets and motor cores. Explore how surface treatment helped improve electronic flow sensors.
There are four primary applications; each with unique attributes:
Parylene C

Most-common application type
Provides a combination of physical properties and very low moisture permeability
Excellent resistance to chemicals and gases
Good electrical properties

Parylene N

Similar characteristics to Parylene C, but able to function up to 220° C without oxygen
Highly-dielectric properties
Most "conformable" of all of the dimer structures

Parylene D

Similar properties as above, but with the addition of 2 chlorine atoms to give greater thermal stability
The dimer with the lowest ability to confirm, also has some reduction in dielectric properties vs. C

Parylene HT

Lowest coefficient of friction of all parylene formulas
Based on alpha hydrogen atom with fluorine
Very low dielectric and most able to conform given extremely low molecular size
Essentially, Parylene delivers biocompatibility to the medical industry, and stability to the electronics, aerospace and automotive industries. See the parylene video below for additional application details.
Interested in having a sample treated? Just fill out a parylene application worksheet for a recommendation.