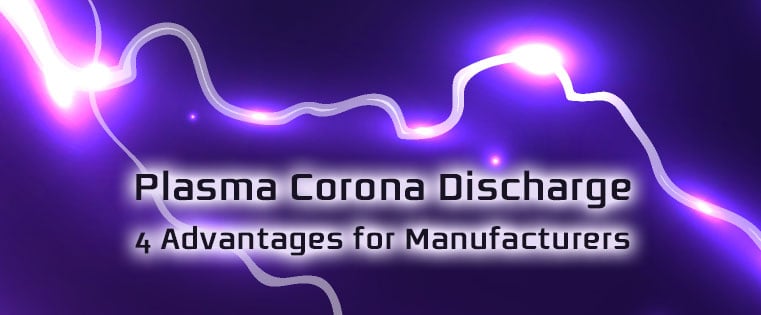 The US manufacturing economy continues to waver between marked improvement and ongoing challenge in 2016, according to the National Association of Manufacturers. While progress is being made, there's still concern around global headwinds. Reading this report, it occurred to me that many manufacturers could realize significant gains by building corona discharge treatments into their production schedules ― and they may not even realize it! Corona alters the surface properties of materials to give them desirable attributes, such as a part that will last longer or boast cleaner finishes.
Here's how this surface modification technique works:
What is corona discharge plasma? It's a surface modification technique that alters polymers and elastomers in order to control the interactions and responses of a secondary application such as bonding.
How does it work? A corona discharge is plasma at standard atmospheric pressure. Plasma is produced by an electric charge that is produced by high voltage when in close contact to metal electrodes. The resultant discharge is the corona discharge. When an electrical discharge occurs, ions and ozone are nearly always generated. It is an ideal method for removing debris and contaminants from circuit boards, for instance.
How can it help manufacturers? The treatment enhances the properties of components so that they perform better in specific operating conditions. Because without the right properties, surface events can lead to the failure of a device (or the system containing it). Corona discharge is just one of several surface modification techniques.
Here are 4 key benefits that corona discharge plasma delivers to manufacturers:
1) Increase manufacturing yields
Corona discharge and other surface modification techniques can remove contaminants from sensitive surfaces to reduce part failure and increase total production yields. This is particularly true in fiber applications.
2) Better bonding results
By removing all traces of contamination, corona treatment can improve the bond strength of inks or paints, or the bond of one component to another plasma work well with in-line process such as plastic film.
3) Selective surface control
Corona is a two-dimensional treatment process. It offers a robust system that is easy to control. With the right equipment, corona can be done in-house, or the service can be outsourced with a quick turnaround.
4) Longer treatment lifetime
By removing all traces of organic contamination, corona discharge treatments give components longer durability and even corrosion resistance. It's used widely by the medical, pharma, biotech, aerospace and other industries to treat components.
Corona treatments can rapidly treat large substrates and are effective on many commodity-grade polymers. Submit your design specs to explore if the method is right for your manufacturing environment.