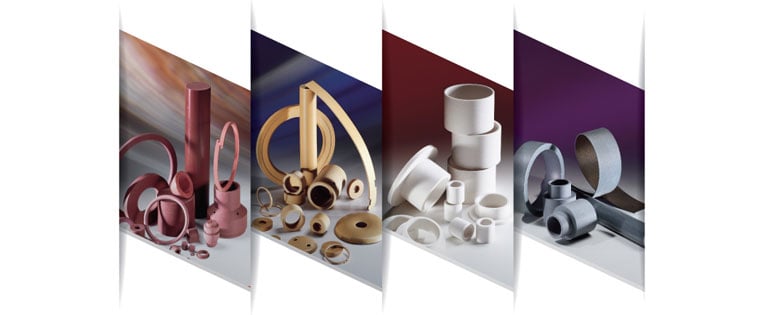 Did you know there are over 300 unique Rulon blends? Or that the material was named for the president of the originating company? Can you name the most popular formulas? Or common uses? Today on Tech Talk, we feature a Rulon Review:
Rulon is a family of PTFE-blend materials that was invented back in 1952 by Dickson Industries of Bristol, RI. The original material was named after Dixon's president, Bob Rulon-Miller, who planned to use the new, long-lasting material as a saddle bearing. Dixon Industries was acquired by Furon, and eventually by Saint-Gobain Performance Plastics in 1999. In 2010, after a thirty-year partnership, Saint-Gobain named TriStar as their exclusive North American distributor of Rulon products.
Rulon excels in demanding seal, ring, tape and wear applications based on its very low COF, and heat resistance. Two original formulas of Rulon were Rulon A and Rulon LD, now reformulated and renamed to Rulon AR and Rulon LD.
All Rulon bearings have several common attributes:
Temperature range of -400° to +550/600°F
Remains inert to all chemistry
Variable thermal expansion
Outstanding wear and strength
Which are the top 4 Rulon blends and common uses?
Rulon LR

A maroon colored, ceramic fiber filled bearing material with excellent creep and wear resistance and low friction. Rulon LR performs best against 35RC (or higher) hardness.
Common uses: An all-purpose, go-to material for general bearing applications.

Rulon J

Gold in color, and with the lowest friction of any plastic. A nonabrasive material, Rulon J will run against softer materials.
Common uses: Automotive, appliances, aerospace

Rulon 641

FDA approved and white in color, Rulon 641 can withstand cleaning chemicals and resist contamination.
Common uses: Food processing, packaging and medical equipment

Rulon 142

This blend is a gray/blue color and gives good deformation and good sliding ability.
Common uses: Machine tools, motor mounts and slide pads
All Rulon formulas are available in standard sleeve, flange and thrust to match bronze standards. Or the material is available in Rulon sheets, rod, and tape options for in-house machining. See the full Rulon comparison and compatibility chart for detailed specs.
How are you using Rulon in your industrial manufacturing? Tell us below, or ask your Rulon questions here!