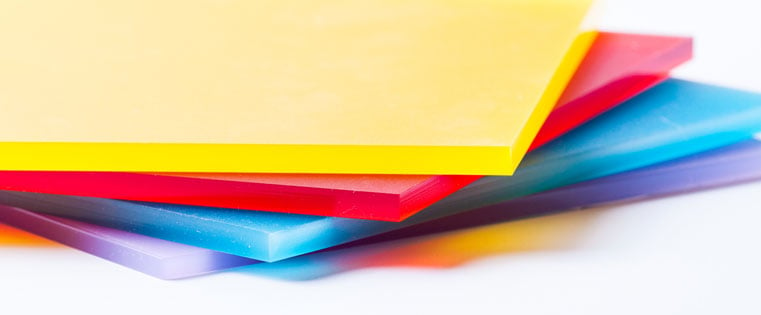 We recently had a customer ask us for some tips on annealing cast acrylic. There are definitely some potential pitfalls when working with acrylic in both sheet and finished part form, but following the guidelines outlined below should yield excellent results.
First… What is Annealing?
Annealing is the process of relieving stresses in molded or formed plastics by heating to a predetermined temperature, maintaining this temperature for a set period, and slowly cooling the parts. Sometimes, formed parts are placed in jigs to prevent distortion as internal stresses are relieved during annealing.
Tips for Annealing Acrylic Sheet
To anneal cast acrylic sheet, heat it to 180°F (80°C), just below the deflection temperature, and cool slowly. Heat one hour per millimeter of thickness – for thin sheet, at least two hours total.
Cooling times are generally shorter than heating times – see the chart below. For sheet thickness above 8mm, cooling time in hours should equal thickness in millimeters divided by four. Cool slowly to avoid thermal stresses; the thicker the part, the slower the cooling rate.
Wait until oven temperature falls below 140°F (60°C) before removing items. Removing a part too soon can offset annealing's positive effects.
Tips for Annealing Parts Made from Acrylic Sheet
While annealing acrylic sheet parts, support them to avoid stress. For example, a part's raised center section will need independent support – it can't be supported from the ends. Lack of support may inhibit relaxation or cause warpage. Be sure parts are clean and dry before annealing. Remove paper masking to avoid baking it onto the material. Remove any spray masking, protective tape, or similar material. Plastic masking may remain in place.
For post machined acrylic parts - Heat to 180°F over a 2 hour period, hold for 30 minutes per each ¼" of thickness, cool at 50°F per hour until room temperature. This must be done in a nitrogen oven.
If the only fabrication you have done is surface machining and you do not need to anneal cemented joints, heating time can be reduced. This reflects the fact that machining forms stresses only at and slightly below the surface – the entire sheet thickness needn't be annealed. Heat at least two hours; cool the same amount of time. If holes have been drilled entirely through the sheet, position the part so heated air flows through the holes.
What are your Material Fabrication, Machining, and Processing Challenges?
This post focused on a specific process for one material, but any product you work with is going to bring it's own challenges – and have a corresponding "cheat sheet' that experienced engineers pull out to make it all go smoothly. Our engineering team has decades of combined experience and can provide this information. In fact, we've just launched an entirely new Enhanced Materials Division (EMD) to help people with just this sort of thing! We have a full suite of services and products to help you find the best, most cost-effective way forward.