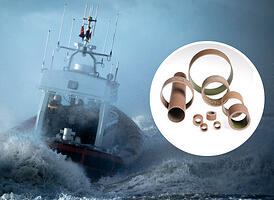 Is corrosion a problem in your marine bearing application?
Are excessive loads or speeds a challenge?
Need a material to resist sea spray, barnacle growth and other water hazards?
We have the answer to these marine bearing challenges.
The CJ bearing system might be the right fit ― it has even performed on elite America's Cup vessels. Designed as a replacement for bronze, steel, rolling element bearings and even other polymers, CJ is a simple, self-lubricating bearing solution for marine, construction, railroad and other heavy-duty applications. Consider CJ bearings when loads are above 15,000 PSI and speeds are between 0-400 feet per minute.
CJ bearings NEVER absorb water, and excel in these marine environments:
Naval submarines
Fairwater plane pivot bearings
Self-unloading barges
Loading/unloading boom pivot bearings
Off-shore oil rigs
Spherical bearings on pipe handling devices
Door pivots on water bomber loading doors
Inboard/outboard motor
Stern drive pivot points – variable pitch prop pivots
Sail boats
Water attractions
Underwater animatronics and other entertainment applications
Explore the benefits of CJ bearings in our new video (below), or sail on over to the Materials Database for additional tech specs!