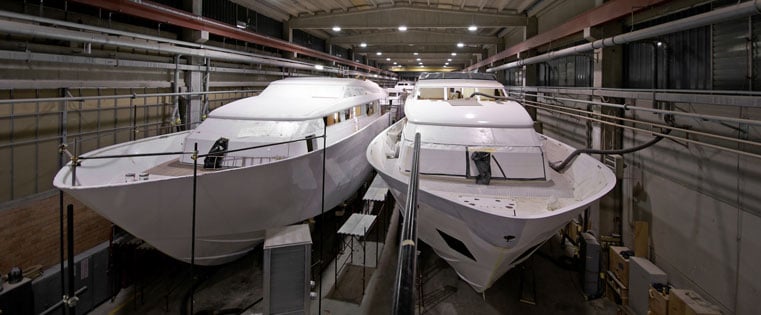 We had a great call with a marine designer who wanted to review options for marine bearings. Like many engineers, she was reluctant to replace traditional metal marine bearings with "new" composite materials. But once we reviewed that composites require no grease and will never corrode ― plus some formulas are certified by the American Bureau of Shipping ― we had a new bearing partner.
Here's how composite marine bearings beat metal and bronze bushings aboard luxury yachts:
Our new partner builds luxury yachts for a niche market of discriminating clients. Their vessels command a price tag of millions, and are built to exacting standards. Just as their clients demand only the best amenities, this yacht designer demands only the best bearing materials. Composite bearings provide longer service life than bronze bushings, will never corrode and easily resist the effects of corrosive sea and salt water. They are also easier to maintain, since they are self-lubricating and don't need regular greasing that metal bearings need.
Composite bearings excel in linear, oscillating and rotary applications with high-loads. They are even installed aboard America's Cup vessels!
Where will you find composite bearings on luxury yachts?
Transom doors and pivot points

Sliding decks and water-level hatches deploy more evenly with composite bearings, since they remain dimensionally sable in liquid

Bow and stern thrusters

Composite bearings resist salt water corrosion to improve the propulsion and maneuverability

Gear pumps

Composite bearings as a replacement for rolling element bearings and bronze sheaves in marine gear pumps

Rudder bearings

Ultraflon materials resist vibration for smoother sailing in rough seas

Dockside use

Composite never rust or pit from extended use at the docks. They give longer service in marine cranes, sheaves, davits and winches.
Another key benefit of composite bearings, and one that I feel is often underrated, is that the materials resist damaging UV rays. Given prolonged sun exposure, it's good to know that the bearings won't degrade over time.
The bottom line for this luxury yacht builder? Composite bearings give industry certification, grease-free service and no corrosion to luxury yachts.
Sail on over to the marine bearing experts to review composite bearings for your marine application!