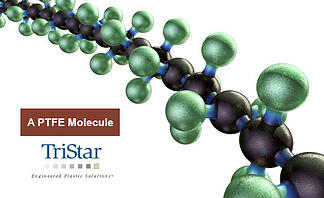 A recent customer visit found us reviewing the attributes of amorphous vs. crystalline polymers. I thought I'd share the information as a good refresher on polymers and PTFE.
So what are the key attributes of crystalline vs. amorphous polymers?
Crystallinity is one of the key properties of all polymers. Crystalline polymers are nearly linear in structure, which tends to be flexible and fold up to form tightly and packed. Processing time and temperature greatly influence the degree of crystallinity. These polymers have a higher level of shrinkage, are generally opaque or translucent, possess excellent chemical resistance, low friction, and superior wear resistance.
Conversely, amorphous polymers have low shrinkage, good transparency, gradual softening when heated (no distinct melting point), average or poor chemical resistance, high friction, and low wear resistance.
Here are some common materials of each:
Crystalline polymers
Polyethylene
Polypropylene
Acetals
Nylons
Amorphous polymers
Polystyrene
Polycarbonate
Acrylic
ABS
SAN
Polysulfone
Want to learn more? Check out how crystallinity can help you
Recognize Quality in PTFE Materials
or
Ask an Engineer for assistance
!