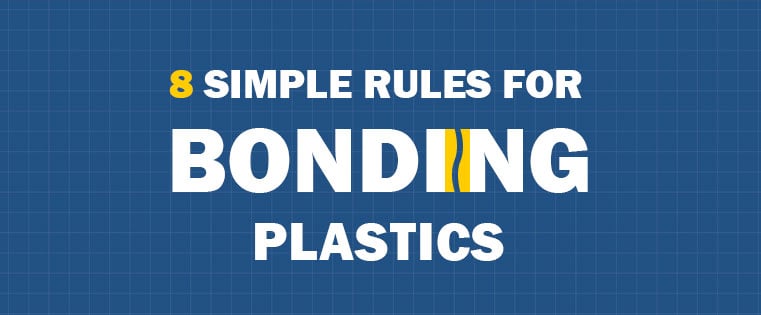 Today's post is designed as a quick list of must-follow rules to help you achieve best results from bonding plastics. Whether your industry application is medical or consumer, aerospace, construction or another field, the bonding rules are the same.
Securely bonding plastics begins with choosing the right materials, preparing the surface finish, and following a few simple rules:
Be sure that the substrate and the plastic are properly prepared via mechanical, primer or thermal properties.

Once you've cleaned the substrate, clean again! Even a small amount of oil or contamination left on the surface can impede thorough bonding results.

For best results, we advise that you avoid petroleum-based cleaners, and instead consider IPA or acetone formulas.

Always handle parts with gloves, as skin oils can lead to line failures.

Check adhesive for compatibility with the plastic. Some adhesives will cause amorphous (see through) plastics to haze and crack.

We recommend that you avoid fast-cure adhesives which are more likely to crack during the 24-hour cure period. Even those products which are specially designed to cure faster can lead to crystallization and cracking.

When working with materials like nylon, acetal, and polyester, consider using a primer before applying the adhesive to enhance bond strength.

Bonding PTFE? The top rule with this material is to prepare all PTFEs and PTFE blends (like Rulon) with one side etched before bonding can begin. Read more about proper storage of etched Rulon.
With these rules in place, you can expect positive results and lifetime treatment. Or if you'd prefer to outsource your bonding process, we've got an all-new adhesive system in place that can bond virtually any plastic to any substrate. This system even eliminates the risk of over compressing the adhesive. Just ask us for details!
Or watch our video (below) for additional tips!