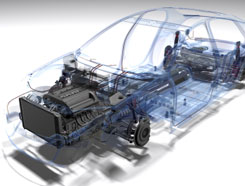 Auto design manufacturers are constantly seeking new solutions to help improve the safety and performance of their vehicles. Innovations in 4-wheel drive controls, CVTs (continuously variable transmissions), clutch systems and dual-mass flywheels are helping to meet those goals. But these components have also increased the demand for heavy-duty sliding, oscillating and rotary bearings. TriSteel bearings are designed to excel in automotive applications:
Dual-layer design gives many options for outer-shell structural support and polymer liners
Self-lubrication gives manufacturers maintenance-free design options
Exceptional capacity for tolerating side loads
PEEK/Stainless bearings are an excellent substitute for applications in high temperature chemical valves and pumps.
Good vibration resistance for auto undercarriage components
Want to learn about other applications for TriSteel bearings? See our video in the TriStar Video Learning Center to learn more!
Share your experience with reinforced bearings!