Challenges for Agriculture Equipment: The Value of Self-Lubricating Components

Agriculture is one of the oldest industries in existence. It's also one of the first industries to be systematically mechanized.
Ever since the popularization of iconic inventions like the McCormick Reaper, mechanized agricultural equipment has played a central role in helping this sector grow more food to serve a growing population while keeping prices as low as possible.
Compared to some industries, agriculture involves many different highly specific production processes: growing grapes looks very different from growing grain or vegetables, for example. And each of these processes comes with a need for highly specialized equipment.
This large number of equipment niches means a large number of OEM's designing and manufacturing products for often highly specialized applications. Almost all of this equipment faces challenging operating conditions, including heat, dust, and operating (literally) "in the field," where regular maintenance is challenging and prohibitive for operational efficiency.
Prefer to read this later? We'll email you a PDF.
Agriculture Equipment: Key Categories
Agricultural production centers on a series of different operational phases. Each of these phases introduces needs for different types of specialty equipment. For some crops, these phases play out across an annual cycle. Other crops may be grown multiple times per year.
Agriculture involves a huge variety of crops and unique growing techniques, from grain fields to cranberry bogs to orchards, and the list below is necessarily generalized. For instance, tree-based crops like fruit may not require annual re-planting but will require other maintenance tasks like pruning.
Phases of Agricultural Production Overview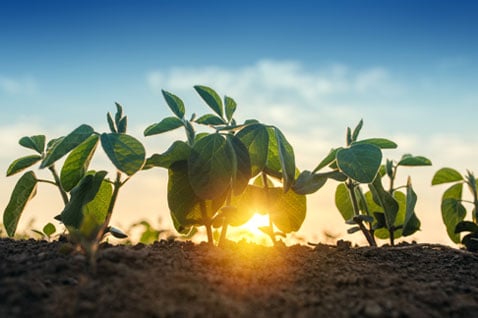 While laying out these phases linearly helps organize our discussion, it's important to realize that there can be substantial overlap between each of the phases below. For instance, fields may be carefully re-plowed to remove weeds after seeds have been planted.
First, land must be tilled and otherwise prepared for agricultural production. Precise goals can depend on the crop being prepared for, current soil conditions, and outcomes from previous crops (for example, effects of diseases from previous cultivation will need to be minimized). Fertilization is another important part of land preparation which also extends into the actual growing cycle of the crop. Plowing or other soil-loosening/mixing techniques are other crucial aspects of this phase.
Next, crops must be seeded or planted. Some crops may use specialized processes like grafting. Today, seeding patterns are carefully orchestrated to maximize yield: overly dense planting can limit the productivity of each plant, but under-seeded fields risk not achieving their productive potential. Furthermore, not every seed planted will successfully sprout; requiring careful analysis of seed-to-sprout ratio to optimize planting quantities.
Once the prepared ground is seeded, actual crop growing can begin. This process comes with requirements for watering (either via rain or irrigation systems), pest control, continued fertilization, and weeding.
Finally, the fully grown crop is ready to be harvested. Harvesting methods may be the most varied aspect of this already complicated production process. Some fragile crops still need to be picked by hand, while other crops can be cultivated using sophisticated mechanized harvesting equipment. After harvesting, storage becomes an immediate imperative. Some crops may need to be packaged or flash-frozen soon after harvesting to maximize shelf-life and minimize spoilage. Others, like staples grains, are amenable to bulk storage in facilities like silos.
Agriculture Equipment Category One: Tractors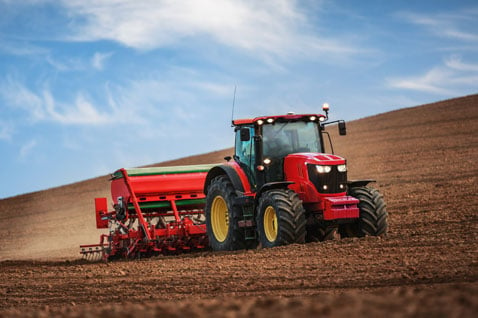 While self-propelled equipment has become somewhat more commonplace, the tractor often remains the common piece of equipment behind all of these categories. Because the multi-part production process of agriculture requires so many different pieces of equipment, maintaining separate vehicles for every aspect of production is often cost-prohibitive.
By using equipment that can be attached and pulled behind a tractor, the same vehicle asset can be leveraged across as much of the production cycle as possible. The tractor is the main workhorse for the farm, pulling a wide range of implements across each of the categories outlined in this article.
Wheeled tractors were historically dominant, but tracked systems have increasingly become a leading alternative: tracks help distribute weight more broadly to minimize rutting/soil disruption.
The equipment pulled behind a tractor often has a mechanism for drawing power from the tractor itself. This mechanism can involve couplings attached to the tractor's transmission or a "power take-off," which most commonly incorporates a specialized drive shaft on the tractor which can be attached to the equipment.
Agriculture Equipment Category Two: Tilling and Soil Preparation Equipment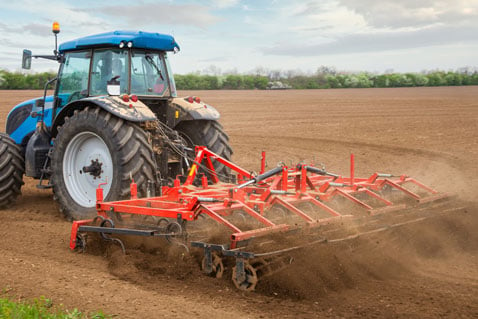 "Tillage" refers broadly to soil preparation via mechanical agitation. Originally performed by hand-tools like hoes, and then animal-drawn plows, tilling equipment for commercial-scale agriculture is almost always mechanized today.
Key Goals of Tilling
Create the desired depth of soft soil suitable for planting.
Incorporate residues from previous growing cycles into the soil to recycle nutrients and reduce erosion.
Kill weeds.
Aerate the soil.
Tilling equipment can be designed for either primary tillage (deeper, more thorough tillage) or secondary tillage (shallower and more selective). Primary tilling, like plowing, leaves the soil with a relatively rough surface finish. Secondary tilling is employed to help level and smooth the rough surface to create a more ideal seedbed. Primary tillage is usually conducted after the previous harvest has been completed. Secondary tillage can be conducted during the growing cycle if needed (for instance, to help integrate fertilizer with the soil or control weeds).
Due to these different tasks, secondary tilling equipment often requires more precision. For instance, it may be required to till between crop rows to eliminate weeds without damaging the crops themselves.
Example Equipment for Tilling
Plows which provide a rough, primary tilling, disturbing the whole surface of the soil. Plows generally pierce the soil more deeply than the "cultivators" below.
Teethed cultivators that pierce the soil as they are dragged linearly through the soil.
Rotary motion cultivators or rotary tillers that spin through the soil as they are pulled.
Cultipackers or land rollers, often used after seeding, crush dirt clods, remove air pockets, and otherwise compress high spots on the soil to help keep the seedbed firm without over-compressing it.
Agriculture Equipment Category Three: Seeding Equipment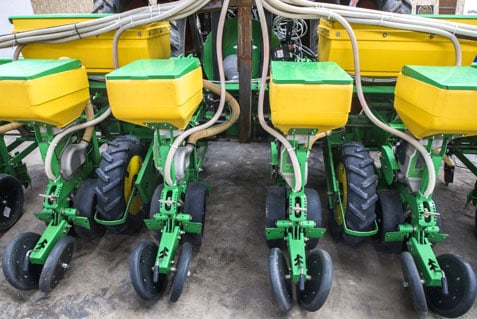 To maximize yield, seeds cannot be simply scattered across the ground. In addition to needing to be spread in an optimal amount and density, seeds need to be secured at a certain depth within the soil (the exact depth depends on seed type, soil, and climate variables). Seeding carefully within a pattern like a row is also important, as this geometry allows for mechanized weeding between crops.
Traditionally, seeding equipment centers around the use of a seed drill, a hopper filled with seeds arranged above a set of tubes which are spaced to help optimally spread seeds using rotating fluted paddles. While primitive seed drills have been used since Ancient Babylon, British inventor Jethro Tull famously created the modern, mechanized seed drill in 1701 (his device was horse-drawn but utilized a mechanical seed apparatus).
Today, seeding equipment most typically works using air injection, a technique that is not only more reliable and precise but can even be used in untilled soil (some regions work to minimize tilling to help preserve soil and prevent erosion).
While the terminology is often used inconsistently, today a "seed drill" is typically used to refer to equipment used to spread smaller seed types. A "planter" is used for large seeds. Either way, modern seeding equipment is prototypically tractor-drawn. Other common terms include "grain drills," "precision planters," and "seeders." All of these terms describe the same general operating concept.
Agricultural Equipment Category Four: Fertilizer and Pesticide Application Equipment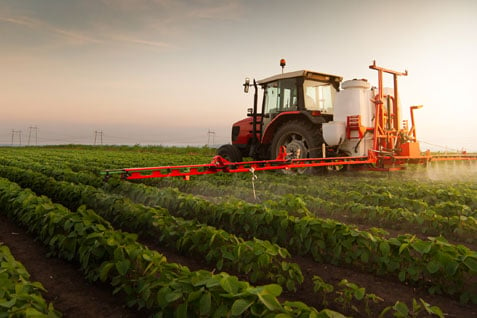 Fertilizer is essential for both maximizing immediate crop yields by providing key nutrients and protecting the long-term health of the soil. It can be applied both during tilling and after the crop has been planted. Extensive fertilizer use has been a key driver of a general increase in agricultural productivity over the last 60 years that has been instrumental in feeding the globe's growing population.
Fertilizer can be generated both organically (eg. manure) or through chemical synthesis. Either way, specialized equipment is required to spread it over crops/soil. The amount of fertilizer required will depend on the fertility of the soil itself and the crop type. The key difference for fertilizer application equipment is liquid v. solid.
Pesticides and herbicides are other key substances that need to be distributed over crops and/or soil. We cover this equipment here because it is most often distributed through sprayer-equipment of the same general design used to distribute liquid fertilizer. Spraying equipment can range from small, backpack-borne equipment to large tractor-drawn equipment.
Fertilizer/Pesticide Equipment Examples
Solid manure spreaders, utilizing a rotating mechanism to split and distribute manure from a storage unit inside a trailer.
Liquid manure sprayers.
Sprayers for fertilizer, water, and weed killers. Sprayers can either project liquid some distance from the equipment or utilize a long boom (these can range up to 150 feet) to apply liquids over a broad field area as the equipment passes through.
Agriculture Equipment Category Five: Harvesting Equipment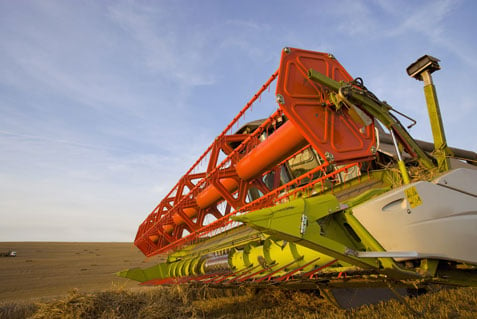 Harvesting machines are highly crop-specific. Generally, they are designed to mechanically pick and load a crop. The huge variation in crops, however, means that harvesters have to be very carefully designed to match the needs of the crop in question. In short, picking a pineapple from a tree is an extremely different process from pulling a potato out of the ground.
Each mechanized harvester is typically named after the specific crop it is designed for. However, various grain harvesters are typically referred to as "combines." Harvesting is one area where engineers are still working to mechanize a large number of processes. While some areas, like grain, have proven amenable to harvesting machinery, others, like delicate fruits, remain dominated by manual labor.
For some crops, the method employed depends on how the crop will be utilized. For example, tomatoes that are going to be processed (eg. into ketchup, sauce, or paste) can be mechanically harvested, but tomatoes for fresh conception are far more likely to be manually harvested to help protect their aesthetic qualities.
With all this variation, the volume and speed of harvesting equipment can vary substantially. While conveyor belts help transport picked fruit with minimal bruising at relatively low volumes, large combines process grain on the order of tons per hour.
Example Harvesting Equipment
Combine harvesters "combine" three distinct harvesting operations for grain into a single piece of equipment: reaping, threshing, and winnowing. They are used for a variety of grains like wheat, oats, rye, barley, and corn. Specially designed combines are also used for bean crops. Specialized "headers" be attached to help adapt the same asset for specific harvesting capabilities for different corps.
Reaping: cutting and gathering the grass-like stalks of grain crops.
Threshing: the process for loosening the edible grain from the inedible stalk. Mechanized threshing effectively works by beating the grain repeatedly until the seed falls out.
Winnowing: Moving rub bars are used to separate the grain and chaff from straw. The seeds then fall through concave grates where they can be transported to a storage "shoe" using augurs.
Mechanical tree shakers use a hydraulic cylinder to squeeze and shake a tree to knock loose its crop. This device is often used on nuts, olives, and certain fruit trees (eg. cherries and plums).
Carrot Harvesters use rubber belts to grab the green tops of carrot plants and pull them from the soil. They are then fed into a machine where the top can be cut off.
Cotton Pickers which cut the plant and utilize a row of barbed spindles that rotate at a high speed to remove seed-cotton from the plant itself.
Conveyor Belts are used to transport fruits and vegetables, lending some mechanical efficiency to an agricultural category that still employs large quantities of manual labor. These belts are specially designed to, for instance, minimize bruising on soft-skinned fruits. In many cases, they can be set up to deliver fresh fruit to a nearby canning or freezing facility.
Important Engineering Challenges for Agricultural Equipment: Pain Points for Agriculture OEM's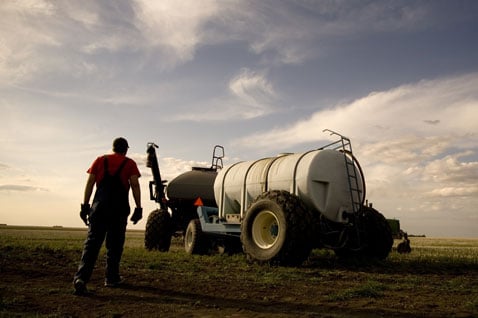 Agriculture equipment exhibits a huge diversity, as the examples above demonstrate. Even within a single category, like combines, many different designs and mechanical variations may be employed.
Virtually all agricultural equipment, however, finds common ground in a core set of engineering challenges. Ag-equipment OEM's have to deliver designs that carefully accommodate each of the challenges below.
Efficiency: agriculture is a highly competitive industry, with most products exhibiting a razor-thin profit margin. In this context, efficient operations matter, and OEM's are always looking to improve the operating efficiency of key machinery. Limiting maintenance workflows, for instance, is essential to keeping agricultural equipment in the field and minimizing downtime.
Reliability: closely related to efficiency, agricultural equipment risks creating serious costs if it fails during the always time-sensitive agricultural production cycle. Components need to maintain reliability in the face of the long run times and high speeds exhibited by agricultural equipment.
A Challenging Operating Environment: this equipment is expected to succeed when working outdoors for long periods of time, including extended exposure to all-weather conditions, including rain, extreme heat, and freezing temperatures.

Agricultural work represents an extreme environment for machinery, full of dirt, dust, rocks, and seeds, all of which can be highly abrasive.

Equipment can also be exposed to fertilizers, pesticides, or other chemicals that can be corrosive to some materials.
A Need for Clean Operation: Because they deal with food products, agriculture equipment needs to prevent, for instance, leaking grease or other lubricants onto the field (or into the produce stored within a harvester).
Advantages of TriStar's Self-Lubricating Components for Agricultural Equipment Challenges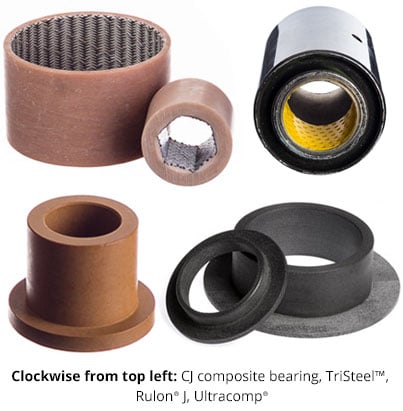 TriStar offers bearings and similar vibration- and impact- absorbing components engineered from advanced, self-lubricating polymer materials. In our experience, these materials have proven incredibly valuable to agricultural equipment manufacturers.
They can not only help enhance the reliable lifespan of components but save on maintenance costs by eliminating the need for regular greasing. Most of all, these components help keep equipment in the field, generating ROI for agriculture operators.
TriStar brings multiple agriculture-friendly materials to the table, including Rulon, TriSteel, Ultracomp, and CJ composite. These diverse offerings allow ag-equipment OEM's to carefully match the desired material properties to the task at hand.
These materials help directly address each of the engineering challenges above.
Each of these materials is self-lubricating, enabling grease-free operation. This feature eliminates messy grease and the maintenance costs that come with regular lubrication. Parts are always kept optimally lubricated, which helps reduce premature failure.

Furthermore, grease acts like a magnet to the small particulate matter often generated in agricultural work. This matter can build up and function as an abrasive to traditional bearings: eliminating grease helps reduce particulate contamination.

Finally, ending the lubrication requirement is helpful simply because many components deep inside complex agriculture machinery are time-consuming to find and difficult to access.
Vibration and Impact Resistance: TriStar materials exhibit excellent vibration and impact resistance. This attribute helps them stand up to long run times without degrading or failing prematurely. It also allows these self-lubricating materials to thrive in a variety of applications that were traditionally relegated to metal bearings.
These materials can operate in a wide variety of temperature conditions without deforming. This feature helps components maximize their lifespan in the face of high operating temperatures and varied weather conditions.
Excellent Corrosion Resistance: this characteristic not only helps our materials thrive in all-weather operating conditions but also stand up to potentially caustic fertilizers and herbicides.
High Strength to Weight Ratios: strong, weight-efficient materials help bearings thrive in demanding, high-load applications while facilitating efficient mechanical operation.
Cost-Effective: TriStar bearings offer excellent ROI. In some cases, they can offer a direct price advantage over steel or other metal components. In other situations, they offer superior costs over the component's full lifecycle due to reduced failures/replacement needs and reduced maintenance costs.
There is no one perfect bearing material for every application. Rather than resorting to broad preferences for one material across all equipment and components, materials should be sourced based on careful analysis of the challenges they will face in the field. This analysis should include maintenance needs, expected lifespan, and the consequences of premature failure.
For a more detailed look at material specifications for each of TriStar's offerings, please see our Interactive Materials Database here.
Example TriStar Component Applications for Agricultural Equipment
Tractor Undercarriage Systems: bushings for the clevis used to mount hydraulic track tensioning cylinders, linkage points between the undercarriage and vehicle frame, and pivot points for boogie/idler wheels.
Dry Manure Spreaders: multiple pivot points, hinge points, and rotating sprockets for chain drivers.
Liquid Sprayers: hydraulic actuator clevis mounts for raising and lowering sprayer booms, hinge points between the booms and body, pump components for chemical distribution systems, and site glasses.
Air Seeders: tilt bars for the tiller discs.
Hay Stackers: bearings for pivot points.
Below, we provide some more details on how our materials have helped solve key engineering challenges in a wide variety of agriculture equipment.
Case Studies: TriStar Self-Lubricating Materials for Agriculture Equipment
These case studies below (and more) are featured in our industry whitepaper, which you can download here.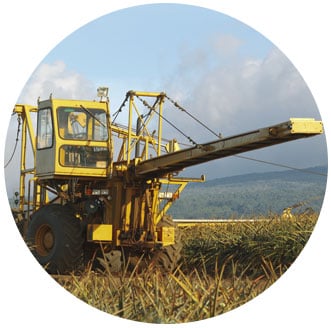 Agriculture Equipment Case Study One:
Challenge: this harvesting equipment OEM makes conveyor belts and suspension cylinders on tractor-mounted boom lifts used for harvesting produce (like pineapples) in steep, hilly terrain.
They required bearings that could last longer in all-weather conditions and resist acid-driven corrosion.
Solution: TriStar identified our Rulon J material as the most effective solution. Rulon J offers low-abrasion for protecting sensitive produce and is compliant with soft-mating surfaces. It also resists stick-slip in start/stop applications like this one. Rulon J has excelled, with our client reporting increased efficiency and productivity, and all while eliminating manual greasing.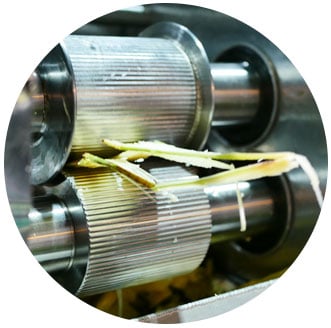 Agriculture Equipment Case Study Two:
Challenge: a major sugarcane producer sought out TriStar's help: sticky sugar cane pulp was becoming "glued" to metal bearing journals inside crushing equipment. These bearings required constant greasing and frequent cleaning. This elevated level of maintenance was introducing prohibitive supply, labor, and downtime costs. Meanwhile, they were operating in constant fear of a bearing seal failure that could contaminate huge volumes of product in their high volume (7000 tons of raw cane daily) production line.
Solution: TriStar identified Ultracomp UC500 bearings with reinforced fibers, combining a binding resin with graphite migratory lubrication. Our fabrication team also improved the seal design at both ends of the journal and eliminated the ingress of sugar onto the bearing surface.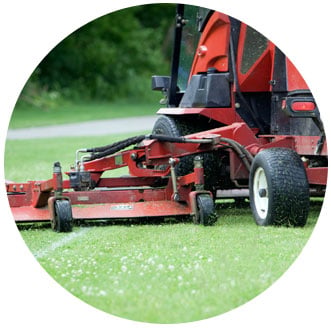 Agriculture Equipment Case Study Three:
Challenge: a client was struggling with cost-prohibitive steel bearings used on the undercarriage, steering column, and control arms of their riding lawn mowers. Meanwhile, end-users like farmers complained they simply didn't have time to constantly re-grease these metal bearings.
Solution: Our engineers studied the issue and identified TriSteel bearings to replace steel-on-steel units. This solution provided enhanced component life, zero maintenance, and was a cost-effective replacement for steel throughout the equipment. Meanwhile, end-users no longer had to worry about the hassle of regular maintenance.
Learning More: Strategic Materials Selection for Critical Agricultural Equipment Components
This paper has examined how self-lubricating polymer components like bearings can solve some of the most common engineering pain points for agriculture equipment. TriStar materials provide advantages that are relevant to much of the diverse array of equipment found in the farms and fields of the global economy. For components expected to thrive in the demanding, competitive agriculture sector, material selection matters.
We never present composites or advanced polymers as a one-size-fits-all solution. Materials perform their best when they are carefully engineered to match the challenges of the operating environment where they are expected to thrive. Rather than treating bearings as commodities to be sourced from the cheapest bidder, an engineering-driven approach to component selection almost always pays off over the long term. In many cases, alternative materials can offer both cost and performance advantages compared to traditional materials like metal. In other scenarios, a nominally cheaper metal bearing may end up having a far greater lifetime cost if it fails prematurely compared to a better alternative
TriStar believes in adopting a true consultative engineering approach with all of our clients. The right bearings can not only solve chronic pain points but in many cases solve problems that engineers never knew they had. Our engineers are known to spend extensive time on site, studying client applications up close to determine the right materials for the job.
We take pride in providing this same level of attention to clients of all sizes. This approach is especially important in agriculture equipment, which features many smaller companies that design and manufacture more specialized products (in our experience, these specialized firms are often overlooked by large bearing manufacturers chasing high-volume accounts).