Meldin® Polyimide Application Showcase
In May of 2022, Saint-Gobain Omniseal Solutions™ announced a strategic agreement with TriStar for the exclusive distribution of Meldin® Polyimide stock shape materials for the North American market (press release). With that in mind, we thought we'd take this opportunity to talk a bit about the flagship Meldin® 7000 range of PI materials and highlight a few of the industries and applications for which Meldin® has proven highly effective.
Introducing Meldin® 7000 Series Thermosetting Polyimide Materials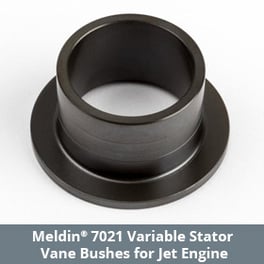 The Meldin® 7000 line combines industry-leading high-temperature performance with a high value-price point. These materials can sustain their physical properties all the way up to 600 degrees Fahrenheit—and do so with a consistent thermal expansion rate. The Meldin® 7000 series' temperature tolerance exceeds that of materials like Torlon® and PEEK, which break down at high temperatures. And its physical strength exceeds that of high-temperature alternatives such as PTFE.
The Meldin® 7000 Range Consists of:
MELDIN® 7001 – This unfilled grade provides a lower cost polyimide option perfect for insulation applications, vacuum components, and high temperature structural parts which do not require self-lubrication. These materials thread the needle of offering superior ductility to ceramics, and lighter weight than metal. Replaces Vespel® SP-1.
MELDIN® 7003 – This variant contains 15% MoS2 Originally developed for dynamic dry service in the vacuum of space, it now offers excellent value in semiconductor manufacturing equipment. Replaces Vespel® SP-3.
MELDIN® 7021 – This multi-purpose, wear-resistant formulation uses 15% graphite as its primary internal lubricant. 7021 offers an exceptional value proposition for applications like bearings, thrust washers, and piston rings. Replaces Vespel® SP-21.
MELDIN® 7022 – Components fabricated using this material offer good strength and stiffness combined with extraordinary wear and friction properties, enhanced via 40% graphite lubricants to achieve extremely high bearing PV ratings. Replaces Vespel® SP-22.
MELDIN® 7211 – Using a filler containing 15% graphite and 10% PTFE, this variant provides the lowest coefficient of friction of any Meldin® material. Replaces Vespel® SP211.
From Semiconductors to Specialized Industrial Applications, Meldin® Polyimides Deliver Longer Life at Higher Loads and Speeds
Meldin® 7000 materials can be applied wherever excellent dimensional stability at high temperatures is required. Let's take a brief look at just a few of the industries where these materials have been successful:
Semiconductor - Meldin® material's resistance to outgassing in a vacuum make it ideal for use in plasma etching silicon wafers for semiconductor production, where contamination from gases is a concern. The material's high purity, resistance to solvents, and high electrical insulative properties also contribute to its effectiveness in other semicon applications such as feed rings, wafer handling equipment, oven ring supports, wafer clamps and vacuum pads.
Aerospace - Meldin® material's exceptional temperature resistance, dimensional stability, and high strength-to-weight ratio have fueled its adoption in airframe systems such as landing gear, as well as the pads, bumpers, washers, seals, and bearings of jet engines.
Pumps and Transmissions - Meldin® material's combination of self-lubrication and high-temperature resistance is a great fit for components such as piston rings and thrust washers. Meldin® can provide a lightweight alterative to metal in the pumps and transmissions found in automotive, off-road, and agricultural applications.
Medical and Life Sciences - Key Meldin® advantages such as self-lubrication and low friction, make it ideal for precision medical and dental applications such as surgical air tools and dental drills.
Industrial - Meldin®material's superior high-temperature capability makes it suitable for a variety of industrial applications – from the handles and nozzle insulators of plasma cutting torches to the infuser rollers and finger pickers of high-volume copier machines. Other specific uses of Meldin® in this space include glass handling devices (such as bottle neck gripper inserts) and nozzle insulators in hot runner tools.
If you are interested in learning about some specific Meldin® applications, explore our library of Meldin case studies. For a more comprehensive look at the product line, read our deep dive.
Discover the TriStar Advantage – and see if Meldin® will Enhance your Applications
We've provided a very basic overview of the capabilities of Meldin® thermoset polyimide materials and some example applications but the actual possibilities are myriad for these versatile materials. Anywhere Vespel® or Torlon are used, Meldin® can be considered. TriStar engineers have decades of combined experience in sourcing materials for critical applications and we would be happy to review any projects you have.