Rail Cars & Rail Transportation: Crucial Components Meet Critical Business Challenges

Railroads are the oldest means of mechanized transportation, but the global economy still depends on rail.
From moving freight across continents to moving passengers underneath the streets of some of the busiest cities on earth, trains and related technologies help keep the economy "on track."
Keeping rail transportation networks running smoothly, efficiently, and safely is a serious business challenge. In this article, we focus on how rail cars themselves (along with some specialized equipment for maintaining rail networks) come with complex engineering pain points.
Railcar equipment has to hold up to long periods of operation, weather extremes, and extensive vibration. For key components inside the train, premature failure means heightened maintenance costs, downtime, and potentially costly damage to trains and/or cargo. Meanwhile, the reliability of critical components like hand-brakes can have life or death implications for railroad personnel and passengers.
Below, we look at some of the vital equipment underpinning railroads and associated transportation systems like light rail and subways. We begin with a broad overview of important categories of railroad and transportation equipment. From there, we look at some of the unique operational challenges faced by this equipment. Finally, we take an in-depth look at how selecting the right materials for components in these demanding applications can help address major engineering challenges.
Prefer to read this later? We'll email you a PDF.
Railroad & Transportation: Important Operational Categories
The rail industry can be helpfully categorized based on three basic functions. While each shares some of the same basic technologies and business imperatives, understanding the full breadth of equipment used in this industry is essential.
Rail Transportation Category One: Freight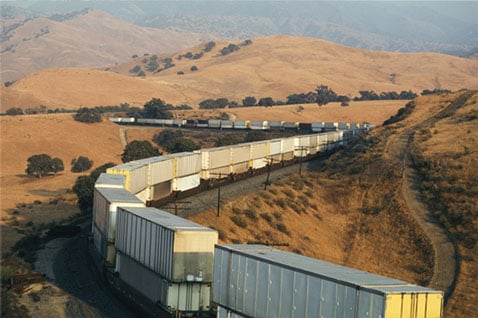 Freight cars do not require the same level of engineering refinement as transit trains or high-speed passenger cars. Even relatively simple freight cars, however, feature a variety of mechanical apparatus. Meanwhile, specialty cars like refrigeration cars, tank cars, and autorack cars add even more mechanical complexity.
Important examples of critical freight railcar equipment:
Truck Systems
Emergency Hand Brakes
Cargo Doors
Multi-Car Air Compressor Systems
Draft Gears for Coupling
Railroad and Transportation Category Two: Transit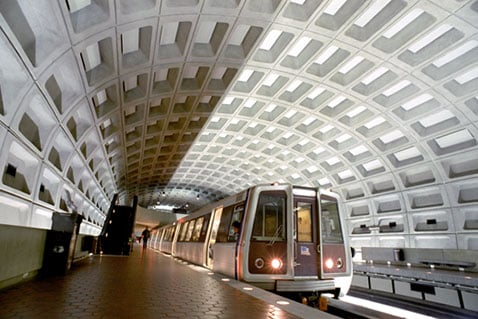 Transit cars include both the passenger cars used for long-distance rail service (such as those employed by AMTRAK ) and cars for light rail and subway systems. Safety concerns necessitate including much more sophisticated onboard systems. On passenger cars, for example, mechanical couplers are replaced with electro-mechanical systems featuring multiple fail-safes.
Door controls and slides need to be more reliable, ensuring passengers can quickly board and deboard. Passenger cars also feature improved running gear, like shock absorbers, to help ensure a comfortable ride. Even seating represents an added mechanical element that needs to be carefully maintained.
Railroad and Transportation Category Three: Maintenance of Way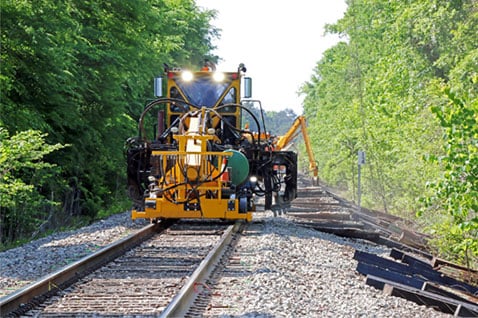 Trains delivering cargo and passengers are just one small part of the overall work required to maintain a successful rail transport operation. Maintaining a nationwide network of rails requires extensive maintenance work. This maintenance takes on added importance compared to many industries: under-maintained tracks can result in catastrophic failure, such as fires or derailed trains.
Examples of Key maintenance tasks Include:
Ensuring track cleanliness: tracks need to be kept continually free of debris. Heavier debris represents a dangerous obstacle to trains. But even small debris, like paper waste on the tracks, represents a serious fire risk. Specialized equipment is needed, for instance, to clear foliage growing near the track.
Ballast maintenance: ballast is the crushed stone (or other material) used underneath tracks. It plays a vital role in absorbing the force from the tracks themselves, draining water, and preventing plants from growing immediately under the tracks. Specialized heavy machinery like tampers and ballast regulators are required to keep ballast level and well packed.
Maintaining switching gear: these mechanisms are used to choose which path a train travels down when encountering a junction in the track. They must be carefully maintained for smooth operation and safety.
Important Engineering Challenges for Railroad and Transportation Equipment
While the categories above each come with differing requirements for rail equipment, these rolling assets will always be faced with the same core set of operational challenges. The basic nature of rail means high-weight objects generating huge amounts of friction and vibration as they travel across distances. Historically, this friction comes alongside substantial metal-on-metal contact, generating heat and the risk of sparks.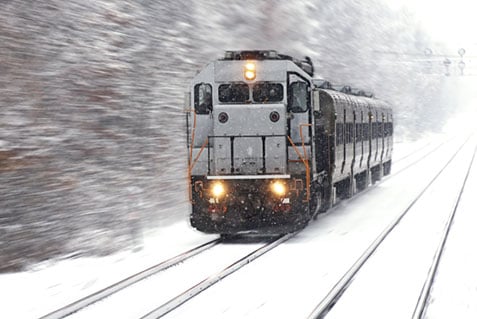 Meanwhile, trains are expected to operate outdoors (or in the case of subways, underground) almost permanently. Outdoor operation comes with weather exposure, and corrosion is an ever-present risk for railroad components. Often, these trains are moving through dirty, dusty environments.
Meanwhile, trains are already extremely heavy vehicles: any reduction in weight represents a potential increase in performance and efficiency. Engineering decisions have to be made with this careful balance in mind; weight needs to be minimized wherever possible, but never at the expense of functional design requirements.
Finally, trains operate in both populated areas and natural environments where environmental contamination must be avoided. Obvious examples that need to be carefully secured include tanker cars carrying oil, toxic chemicals, or hazardous waste. But even normal boxcars, for instance, risk leaking grease into the surrounding environment.
In the railroad industry, these foundational engineering challenges are directly related to business success. Every car taken out of operation for maintenance represents a hit to profitability. Time spent fixing anything from a faulty brake to a stuck door means less time moving valued cargo to its destination. That's why engineering key components like bearings to match these challenges is so important.
The Importance of Bearings for Rail Transportation Applications
In an industry full of heavy weight, high levels of vibration, and metal-on-metal contact, bearings play an essential role. Bearings can describe a wide variety of specific solutions, but all of them share the basic characteristic of "bearing" a load to minimize friction, heat buildup, and vibration (for a deeper look at bearings and how they work, please see our Bearings 101 guide here).
Reflecting the engineering concerns discussed above, bearings utilized in railroad and transportation face a need to:
Add minimal weight to the design without compromising performance.
Stand up to continuous vibration, exhibiting strong shock absorption properties over long running periods
Exhibit fire-retardant properties wherever possible: metal on metal contact risks sparks, which are especially dangerous on volatile chemical cars.
Stand up to varied weather conditions, resisting corrosion from dust and moisture.
Minimize maintenance issues requiring constant re-service while avoiding unexpected, premature failures. Traditional metal bearings, for instance, require frequent relubrication to maintain performance.
Advantages of TriStar's Self-Lubricating Solutions for Rail Transportation Challenges
Traditionally, the high-loads of the railroad industry demanded metal bearings in most applications. Metals like steel and bronze, however, have real limitations in railroad applications. Advanced materials offer substantial advantages over steel bearings across a wide variety of railroad applications.
Better materials mean less maintenance, longer component life, and more efficient operation. They can also be a matter of life and death: in one case, TriStar was called on to replace a low-standard polymer bearing that had failed in a critical car hand brake system, resulting in a death.
In fact, potentially dangerous levels of friction are such a commonplace risk in rail transport that we have found crucial safety applications for our materials outside of train cars themselves. In the largest subway system in North America, bumper rails are used to prevent friction between the train and platform upon arrival at the station. Traditionally, these bumpers were simply made of a highly flammable wood. Post 9/11, the bumpers were identified as an unacceptable safety risk: fires must be avoided at all costs underground.
TriStar developed a flame-retardant polyethylene solution that successfully navigated a rigorous regulatory approval process. This material remains the frontline solution for safer subway platform bumpers.
For a deeper dive into this subway application, check out our white paper here.
First and foremost, our self-lubricating bearings dramatically alter the maintenance demands that come with traditional bearings. Self-lubricating solutions mean less maintenance work, less messy grease, and longer component life.
More broadly, the right materials can directly address some of the railroad industry's most pressing engineering challenges.
TriStar works with a variety of equipment manufacturers throughout the railroad industry. Fire retardant materials, for example, are becoming increasingly commonplace (and regulatorily mandated in specific areas like subways). Our Ultracomp FR (Fire Retardant) materials have found a place as a go-to solution across a wide variety of rail-based applications. It's a great example of the benefits an advanced bearing material can bring to the table.
Ultracomp is just one material we engineer to solve problems for our rail transportation clients. For a deeper look at specific material specifications, please see our interactive materials database here.
Key Advantages of Ultracomp in Railroad Applications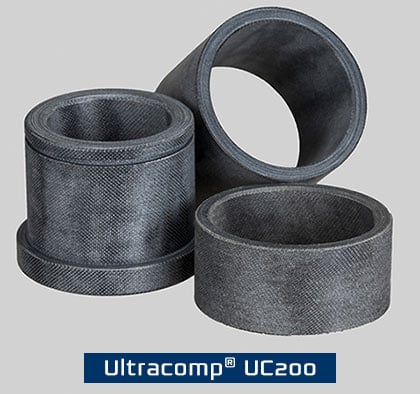 Ultracomp is produced using a combination of synthetic resins combined with reinforcing fibers. The precise resins utilized can be varied to reflect operational needs. UC200, for instance, is constructed using a blend of fiber and graphite composite (you can read more about other Ultracomp formulations on our product page here). Graphite functions as an embedded lubricant, ending the need for regular lubrication with grease or oil.
Ultracomp's self-lubricating design eliminates the need for regular lubrication. This feature simplifies maintenance, helps prevent premature failure, and takes away a key source of potential environmental contamination.
Ultracomp is available in fire retardant formulations that are increasingly becoming an industry standard, improving fire safety in a wide variety of applications. Fire retardant materials are vital for both helping slow fire spread and preventing any potentially toxic smoke.
A combination of mechanical strength and dimensional stability allows Ultracomp to exhibit exceptional vibration and impact resistance, enhancing lifespan compared to traditional steel bearings.
In many cases, high specific strength enables an Ultracomp component to reduce weight by 20-40% versus the metal part it replaces. All Ultracomp products also feature outstanding compressive strength and can carry a sustained static load of over 50,000 psi.
Ultracomp materials have excellent corrosion resistance, protecting against the varied elements often encountered by trains. In fact, Ultracomp is often selected for marine applications where it can even be permanently submerged in saltwater without corroding or deforming.
Low thermal expansion properties prevent deformation in hot operating conditions or under intense friction. Combined with its resistance to water absorption, Ultracomp achieves exceptional dimensional stability.
Easy machinability allows for lower tooling costs while enabling components to be precisely engineered for the challenge at hand.
Ultimately there is no "perfect" bearing material (we discuss bearing selection in the "Learning More" section below). Rather than relying on broad preferences for one material over the other, components should be sourced based on careful analysis of the mechanical stresses they will face in the field, maintenance needs, expected lifespan, and the consequences of premature failure.
Example Bearing Applications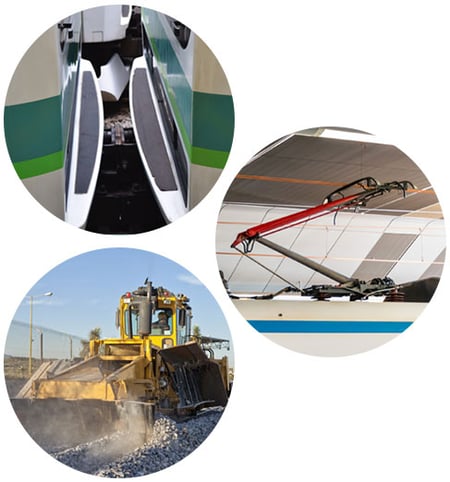 Because they address so many operational pain points for rail equipment, you will find TriStar materials in a huge variety of applications. Just a few examples of rail systems where you'll find TriStar bearings include:
Inside car couplers, where they help absorb constant force-transfer between cars.
Bearings in the gearboxes of hand-brakes, a crucial safety system where failure isn't an option.
Within the truck mechanism, where they are instrumental to absorbing constant friction from the tracks.
Door and window slides, where minimal friction helps preserve smooth operation.
Pantographs are the apparatus on top of many electric train designs, contacting a wire to provide electric power to the train.

TriSteel

is employed here to minimize friction at high speeds.
Side bolster plates made from Trilon FR have been successfully used to prevent metal-on-metal contact within rail car trucks, reducing fire risk for chemical cars.
Our CJ bearings can be found in maintenance of way applications, as well. A tamper, for example, is a piece of equipment used to pack the track ballast (gravel or other material under the track) and correct rail alignment issues. You'll find our bearings within the arms of this critical maintenance equipment.
Case Studies: Rail and Transport Success Stories
These case studies are featured in our industry whitepaper, which you can download here.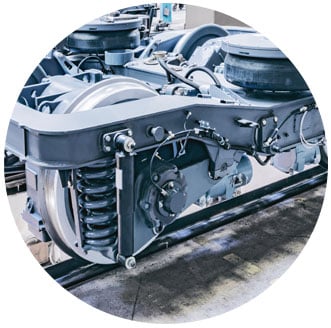 Rail equipment case study one:
Challenge: This client, a manufacturer of rail brakes and couplers, needed more effective materials for crucial undercarriage bearings. They needed to source a durable, fire-resistant solution that could withstand extensive vibration and impact.
Solution: TriStar's Ultracomp 200FR bearings provided an ideal solution. This material was integrated into components for brakes, couplers, and other undercarriage systems. UC bearings have not only thrived in this application but have helped the client continue to meet new, more rigorous fire codes.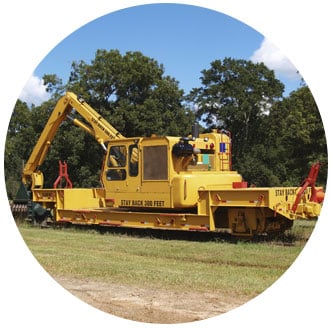 Rail Equipment Case Study Two:
Challenge: The market-leading producer of maintenance-of-way equipment sought a replacement option for a variety of applications like tractor boom arms, mower heads, and hedge trimmers, all used to clear railway corridors. This equipment handles extreme cantilever loads, reaching out 20' from the track itself to clear trees and brush.
Solution: Our design engineers studied the application and identified CJ bearings (a high-load, low friction material) as the ideal solution. CJ bearings have helped our client extend the operating life of this high-load machinery. A self-lubricating material, this move also helped bring down maintenance costs. CJ bearings can even moderate shaft misalignment that can occur in rugged operational conditions, like rough, uneven tracks.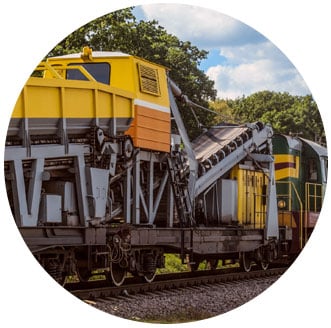 Case Study Three
Challenge: A large manufacturer of railway servicing equipment developed a new rail train that picks up and delivers continuous, quarter-mile-long seamless track to rail construction sites. The train is a series of flat cars, each with towers supporting 50 independent conveyors. The rail rollers on the conveyors experience extremely high loads as the train rounds the curves and rambles down the track. The pivot points on the conveyor bearings were corroding and requiring frequent replacement.
Our client needed a versatile, strong bearing capable of withstanding severe side and vibratory loads.
Solution: Our engineers studied this issue and recommended TriSteelTM PE metal-backed bearings. These PEEK-lined bearings are able to withstand a PV up to 100,000 without lubrication. Friction coefficients of 0.8–1.2 without lubrication allow our client to operate without stick/slip at very high loads and speeds. The bearings are capable of withstanding extensive side loads and operating without maintenance in this demanding environment.
Our client values the fact that TriSteel bearings are self-lubricating, since the use of grease on the conveyor rollers would lead to rapid wear from the lapping action of dirt and track ballast being absorbed into the grease.
Learning More: Engineering-Driven Materials Selection
We hope this paper has helped illustrate how self-lubricating composite parts can solve some of the most common engineering pain points for rail equipment. At TriStar, however, we never present composites or advanced polymers as a cure-all. Ultimately, materials need to be carefully matched to the challenges of the operating environment where they are expected to thrive.
Rather than treating bearings and similar vibration- and impact-absorbing components as commodities to be sourced from the cheapest bidder, we think an engineering-driven approach to component selection almost always pays off over the long term. A nominally cheaper bearing may end up having a far greater lifetime cost if it fails prematurely compared to a better alternative. And rail transportation is a prototypical area where the cost of failure can be extremely high, especially when compared to economical alternatives like self-lubricating composites.
TriStar brings a true consultative engineering approach to our relationship with each and every client. We work hard to understand not just where materials can function, but where they can solve problems.