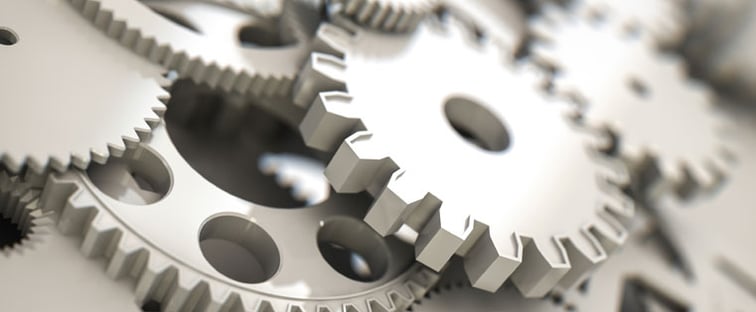 Polymer gears are commonplace in many industries and applications. The advantages of a polymer gear include noise reduction, self lubricating features, dramatic weight reduction and cost savings. From paper mill gears to drive gears in copiers, polymer gears have been successfully used for years.
But everything you know about metal gear design gets thrown out the door with polymers. There are many different factors that have to be considered when designing gears out of plastics including thermal expansion and contraction, physical strength, moisture absorption and possible chemical exposure.
Typical polymers for gears are cast nylons, injection molded nylons, polyester and acetal. Various fillers help to strengthen the base polymers such as glass and carbon fiber, aramid fibers and other additives are used to improve lubricity. More recently high end polymers like PEEK and Torlon have been used to make high temperature gears or gears where exceptional strength is required.
No matter what the material, designing polymer gears will require some extra thought and a change from the norm. Tooth profiles and overall height may need to be changed to accomodate bending forces. Contact conditions at the root of the tooth may need modifications from the norm. Flex strength of the polymer will definitely come into play so input and output torque requirements will need to be reviewed closely.
While there are a lot of advantages to polymer gears you can't overlook the basic differences between steel gears and polymer gears. Material choice and adherence to design changes required to address the physical, thermal and wear requirements of the gear must all be looked at closely.
TriStar has several thermoplastic and thermoset materials used frequently for gears and our engineering department can help you in this process. Have more questions? Just ask!