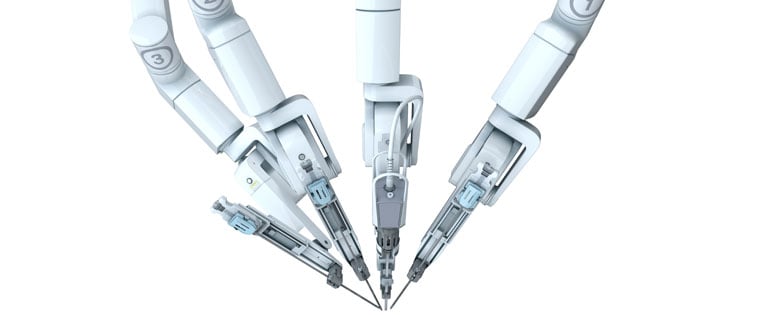 Have you downloaded your copy of the Robotics and Manufacturing White Paper? It's a free resource to help you evaluate plastic and metal bearings to help increase your production levels. Let's review the pros and the cons of each:
To succeed in a manufacturing application, robots need to assume human-like abilities like walking, bending and lifting. After all, bearings are to robots what joints are to humans; they help the moving parts rotate and roll.
Historically, rolling element bearings have been the go-to material for robotic designers, and they have worked well. These metal bearings are designed of pure materials and contain many moving parts (the outer ring, ball, two-piece steel ribbon retainer, shield and inner ring, plus the rolling racers). Metals provide good strength and durability, and good range of motion to accommodate a robot's rotary, oscillating and linear movements.
But metal bearings also have limitations. They present several challenges to a robotic design, including
Lubrication -

Oil-impregnated metals lose their oil through heat and normal use over time. Other metal plain bearings require regular lubrication which is often overlooked by the operator. Also the use of lubrication can lead to wear from contamination caught up in the lube.

Sanitation

-

Metal bearings need lubricating oil to operate, yet this oil can leak and contaminate any equipment used in high-sanitation environments like medical and clean-rooms.

Value -

Initially, metal rolling element bearings appear inexpensive. But given the sheer number of moving parts, these bearings are susceptible to failure from corrosion, and brinelling. And with failure comes frequent replacement, which becomes costly when compared to bearings that deliver a longer lifespan.

Wall design - Metal bearings require a thick shell to accommodate moving racers, but the thick walls can hinder the tight tolerances required of robotic pivot points.

Weight - Metal bearings are up to 5x heavier than other materials, which adds significant weight to a robotic design. For best dexterity, robots need lightweight materials.
Often, lighter plastic bearings and polymers can yield best results. Plastic plane bearings are a hybrid of different polymers deliver enhanced versatility. They present a simple, design and can help designers achieve:
No lubrication - Since plastic composites self-lubricate, there's almost no need for an additional lubricating film layer, which can save you the cost of maintenance, and unplanned maintenance downtime.
Certified agency approval - Different composite formulas offer FDA, USD, and 3A sanitation compatibility to ensure the robotic components are compatible to high-sanitation environments. Explore sanitation and agency approval.
Long-term value - Composites can last 5% longer than metal bearings, to give you a longer bearing lifespan on their manufacturing equipment for long-term value.
Flexible thin design - Unlike metal bearings, plastic composites are thin and flexible to fit a tight design envelope.
Lightweight components - With no rollers and a one-piece construction, plastics give robots good flexibility and strength-to-weight ratio.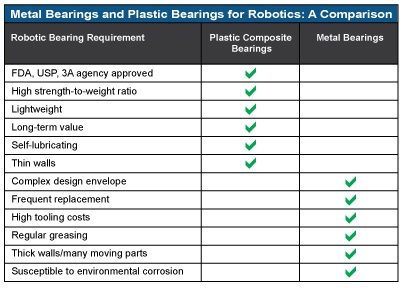 Plastic bearings also resist environmental corrosion, and offer good impact, vibration, and temperature tolerance ― unlike metal bearings. They're available in stock shapes or can be custom fabricated.