Meldin® 7001 Seals the Deal in Paint Sprayer Application
One of TriStar's customers for custom bearings came to us with a problem with a needle valve in their sprayer system. This customer manufactures high-performance paint and coating delivery equipment, and this valve plays a crucial role in controlling the flow of the liquid being sprayed.
A Problem with the Metal Seal Design Resulted in Frequent Failure of the Part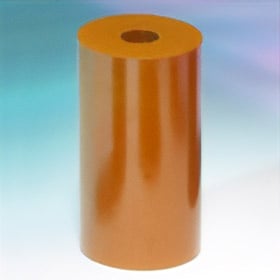 This sprayer is designed to be used with paint or a paint/thinner combination, as well as more viscous fluids used in coatings. The problem was that they have used a custom metal seal in the valve for years and it was a major replacement item for them due to leakage issues. The customer even resorted to the expense of lapping the metal seals to try and improve the performance ─ with no success.
TriStar's engineering team evaluated the parameters of the design with the goal of finding the most cost-effective material that would provide long life. The parameters of the design were as follows:
Maximum Temperature – 120°F
Valve pressure – 200 psi
Part size - .060 ID x .125 OD x .210 lg.
The stated goal from the customer was to identify a material that would provide an air-tight seal without creeping, as well as a simple manufacturing process yielding up to 250,000 parts per year.
After Evaluating the Reasons for the Failure, We Recommended Meldin® 7001
Factoring in all the requirements, TriStar presented the customer with Meldin® 7001 as a direct-formed part ─ which would be a very cost-effective method of production. Meldin® 7001 is an unfilled polyimide material which offers just the right level of stiffness but with high enough resilience and elastic values to compress in the valve housing, seal all hardware surfaces, and last for thousands of hours.
After hundreds of hours of accelerated testing, the customer has confirmed that Meldin® 7001 has solved the problem, ultimately reducing the cost of production and nearly eliminating warranty replacement.
Meldin® Has Excellent Sealing, Conformability, and Durability Performance Compared to Other Polymers
Meldin® 7001 is a great material option for all types of seals in a wide variety of applications. With a temperature range of cryogenic to 600°F continuous, Meldin® offers our customers multiple design directions for seals, bearings and structural components alike.
If you are interested in learning more about the Meldin® polyimide product line, we encourage you to check out our free white paper and, as always, don't hesitate to reach out for assistance with your unique material selection challenges.