FDA-Cleared Rulon®
641 Improves Process Analytics Valves
Recently, a longtime TriStar customer approached our engineers with a unique problem involving one of their valve designs. This customer makes specialized valves used by pharmaceutical companies for process analytics.
The Challenge - Finding the Right Material for a Precise Application with Specific Requirements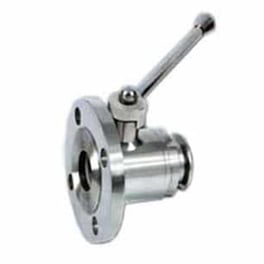 The hardware is all stainless steel, so compatibility was an issue. The media could be both liquid or powder products and a key concern was the potential for crystallization in the valve. The part is a low-to-medium pressure seat ring which must maintain a 100% leak free seal. To accomplish this the ring must be "soft" but not allow cold flow (gradual deformation of the ring under the influence of mechanical stress).
Additionally, the seal ring must have FDA clearance and USP Class VI approval, be non-reactive to CIP (Clean-in-Place) solutions used for sanitation, be fire safe, and be thermally and mechanically stable.
Based on our Extensive Rulon Experience Rulon 641 was the Obvious Choice
After considering several options, including some traditional (and more rigid) valve seat materials, TriStar engineers recommended Rulon 641. It met virtually all the requirements (with a few minor unknowns) but we were confident, based on our experience, that it would be an effective solution.
Key Benefits of Rulon 641 in This Application Include:
Compatible with mild steel, 303/316 stainless steel mating surfaces
Unaffected by all common acids, bases and solvents
Medium load and speed requirements
PV rating of 10,000
Wide temperature range (-400°F to +550°F)
After several months of testing in different conditions, the customer approved the material and has since redesigned several valves using Rulon 641 in place of the original virgin PTFE seals. The customer estimates that this change will result in 4-5 times longer service compared to the old designs with significant cost savings.
TriStar is the Exclusive North American Distributor of Rulon Materials – Our Experts Can Help You Choose
The full line of Rulon high-performance PTFE materials has a demonstrated track record over many years across multiple industries − everything from aerospace to food processing. We invite you to download our Rulon White Paper to learn more about these unique materials and to reach out to our engineers with the details of your projects to see if any of the Rulon grades are a fit.