Meldin®
7001 Polyimide for Semiconductor Wafer Production
Meldin® 7001 is a thermoset polyimide product well suited for applications in the semiconductor market. The key features of the 7001 material meet or exceed the demands of many different aspects of wafer processing and the development of this material gives OEMs and fabricators a viable alternative to historically specified polyimide materials.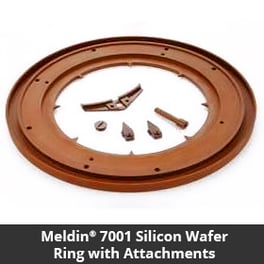 Key Meldin® features include:
Thermal stability up to 600°F and short-term applications to 900°F
Excellent properties at cryogenic temperatures
Outstanding mechanical properties at elevated temperatures
Excellent chemical resistance
Ionic purity
Low outgassing in vacuum
Excellent dielectric values
Excellent plasma etch resistance
UL Rated V-0
Competitively priced against Vespel® SP-1
A Few Semiconductor Application Examples:
Wafer retaining rings
PECVD heater coil holders
Socket holders
HT oven wafer carrier
Spin chucks
Wafer pads
Three Manufacturing Processes are Used to Provide the Utmost Flexibility and Value
Meldin® 7001 is produced using three different manufacturing processes which allow us to evaluate the best possible cost of production for every application. For stock shapes in rods, tubes and rings, hot isostatic molding is our best method. For high volume components, direct forming is a lower cost method to get finished parts without machining. Finally, hot compression molding is specified for plates and larger tubes or rods for machining.
More Ductile than Ceramics and Lighter than Metals, Consider Meldin® for Semiconductor Applications
Meldin® 7001 has been tested with specific semiconductor application needs in mind and TriStar can answer any questions you may have about the viability of Meldin® versus current products in the marketplace. From the plasma stage through final testing and inspection, Meldin® 7001 offers a product made here in the USA by Saint-Gobain OmniSeal Solutions™ and exclusively distributed by TriStar Plastics.
For more detailed information on the Meldin® 7001 material we encourage you to visit the product page and, as always, feel free to reach out to our engineering team to discuss specific material requirements.
The "New Meldin®" Opens Up New Possibilities for High-Temperature Polyimides