CJ Bearings for Reliable Long-Term Service in Marine Thrusters
For many years TriStar Plastics has been supplying our CJ bearing products to companies producing bow thrusters for ships of all sizes. Some of these thrusters are for super tankers that can stand 20 feet tall while others are for smaller pleasure craft and are simple drop-down devices. Read on to learn more.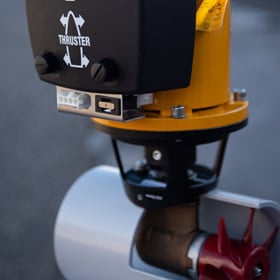 Bow Thrusters Provide Precise Control for Marine Vessels both Large and Small
Bow thrusters allow marine craft to navigate with precision so they can be positioned in tight spaces, such as near docks and ramps, reducing the possibility of damage to the vessel and surroundings. Today's ship building technology goes beyond just bow thrusters − we also now see stern and mid-hull thrusters to make control even more precise.
There are many technologies that have developed since the early days of bow thrusters. Today there are azimuth thrusters, dynamic positioning devices, tunnel thrusters and more. When it comes to devices that live underwater (salt or fresh), there are bearings that support the pivot points on the units. That's where our CJ bearings have been successfully integrated into the designs.
CJ Bearings Have Been Engineered for Long-Term Reliability in Punishing Marine Applications
CJ products are non-corroding, do not swell in water, operate efficiently on water flow when introduced, and when used in sealed housing designs, can operate grease-free for many years without maintenance.
Other CJ benefits include:
Manufactured to tight tolerances for precise controls
Can withstand over 60,000 psi of static loads
Can operate at speeds up to 500 sfpm
Excel in oscillating and linear movements
The CJ family of products can be applied in wet or dry environments found not only underwater but on deck and dock as well. Areas such as sheaves, wind navigation units, anemometers, marine davits, rope block bushings and winches. Learn about some more marine applications for CJs here.
Connect with TriStar to see if your Application Can Benefit from Self-Lubricating Composite Bearings
Big or small, no matter the size of the vessel, TriStar has a long history of applying CJs (and many of our other products) to the marine industry. If you have a need for a self-lubricating bearing for a submerged application, we encourage you to get in touch.