Self-Lubricating Bearings Boost Performance in Screw Conveyors
Conveyors are mechanical assemblies that transport material with minimal effort and high efficiency. Traditional conveyor styles include belt, roller, bucket, overhead and screw or auger type designs. In this issue, we'll focus on the screw/auger type and talk about some of the bearing products in TriStar's portfolio that can improve long term service life without the need for lubrication or maintenance.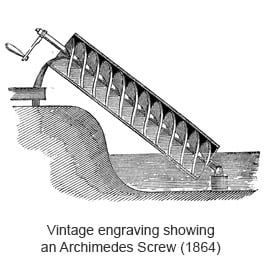 The Archimedes Screw - Origins and Modern Usage
The screw conveyor can actually be traced back to approx. 234 BC when inventor and mathematician Archimedes came up with a helicoid screw in an inclined trough to pull water out of the bottom of a ship. It was soon adapted to give farmers a more efficient method for pulling water from rivers, up the bank and into a canal system to their fields.
In modern systems, the screw design and diameter, hardware material, shaft size, bearing support and drive systems are all critical. The Conveyor Equipment Manufacturers Association supplies design criteria which are very specific for each media type, taking into consideration density, flowability, moisture potential, temperature and (in many cases) regulatory requirements to FDA and USDA.
TriStar's Involvement – Better Hanger Bearings for More Reliable Service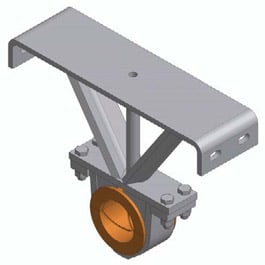 TriStar has been involved in a number of interesting conveyor hanger bearing applications over the years. These include systems for moving materials like granulated sugar and hot ash at the bottom of an incinerator (using refuse to generate the electricity), as well as for moving everything from fruits and vegetables (in food processing/packaging plants) to systems for conveying phosphate, wood flour and even raw sewage.
Our work with OEMs has required us to consider many options for the hanger bearings and the shaft-end bearings. Hanger bearings are used to support the screw shaft in one or more locations and come in several styles and sizes depending on the OEM or aftermarket requirements.
TriStar has materials that can perform up to and over 500°F with no lubrication required, offering high load capacity, FDA/USDA certification, and compatibility with the hardware typically used. We also have lower temperature materials that offer extreme impact resistance with low friction, very good abrasion resistance and self-lubricating qualities, adding wear life to the bearings.
Some of the materials we routinely recommend for hanger bearing applications include:
Ultraflon RTX – Offers good abrasion resistance, low moisture absorption, high impact resistance, FDA approval, good up to 210°F, and low friction.
Rulon® 1834 – Highly abrasion-resistant, zero moisture absorption, good for temperatures above 550°F, high impact resistance, very low friction.
Trilon HTU – Our most abrasion resistant material, zero moisture absorption, temperatures to 285°F, excellent impact strength, FDA approved, very low friction.
Rulon® XL – High abrasion resistance, zero moisture, good against soft metals (stainless and aluminum), very high impact, very low friction.
Ultraflon 550OM – FDA approved, good to 180°F, low friction, FDA approval, but high moisture and chemical exposure should be avoided.
Ultracomp® – Extremely high abrasion and impact resistance, low moisture absorption, good to 330°F, low friction.
TriStar Plastics – Your Best Source for Conveyor Hanger Bearings
Do you have a challenging bearing application requiring a material recommendation? Reach out to our engineers, and we'll take a look. Or Request a Quote if you already know what you're looking for.