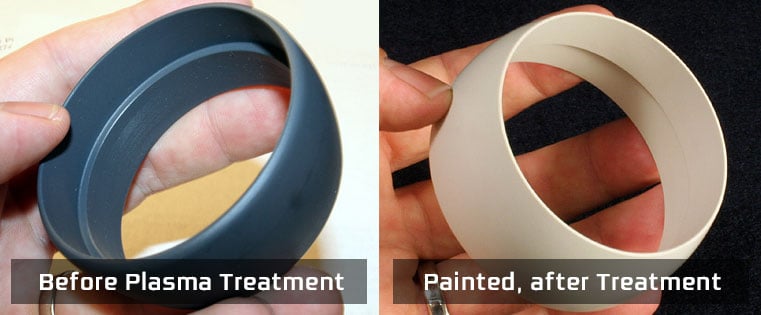 Good adhesion of manufactured parts. Whether you want to adhere one part to another, or secure paint to a component, good adhesion can be difficult to achieve in the regular manufacturing process. Plasma surface treatment can help you enhance adhesion at a good value, and with excellent results - but the process remains a mystery to many designers. Let's take a look behind the curtain to learn why plasma cleaning is often recommended:
Adhesion. It sounds like a simple concept, but can be quite complex to achieve. To start, your parts must be ultra clean before you can even attempt to adhere parts, and virtually any contamination can reduce the bond strength between surfaces. Even parts that have been "cleaned" can still have a monolayer of contamination (or 0.1 microgram/cm2) remaining after rinsing with a liquid solvent. Once these cleaners evaporate, up to 0.2 drops/cm2 of liquid containing 10ppm of non-volatile organic material can be left behind, which will also interfere with bonding. Plasma treatment can completely remove all trace amounts of organic contamination to promote better adhesion.
This is where low-pressure plasma (or vacuum plasma) is your friend. Plasma surface treatment eliminates even the thinnest layer of contamination to promote the best bonding results. Unlike atmospheric treatments, plasma treatments are placed in a vacuum chamber where complete, 3-D treatment of the entire component can be achieved. No area is left untreated with plasma (unless they are intentionally masked).
To demonstrate this power of plasma, I wanted to share this research article I recently read, which cites the high-adhesion properties of PTFE after plasma treatment. It notes the impact of "Heat and power on the adhesion of PTFE was very clear… the adhesion was so strong that the (material) tore apart instead of separating from the PTFE." The article goes on to note that the bond strength lasted even a year after treatment.
Imagine the implications of your part or paint adhesion lasting for a year – or even for the lifetime of your product, which is often achieved.
Beyond cleaning, plasma surface treatments offer other advantages to enhance bonding:
Parts will remain thermally stable

The pressure inside the plasma chamber is maintained well below the 500mT, deformation point to eliminate the risk of thermal deformation to your components.

Surface ablation is minimized

Plasma surface treatment will not alter the transmittance clarity of treated parts. Your bond will remain true and not have an impact on secondary painting processes.

Repeatable with each manufacturing batch

All phases of the plasma process are computer controlled so your process can be repeated every time.
Does enhanced adhesion sound like a good match for your manufacturing process? You may want to start by reading our Surface Modification technical paper. Our plasma surface expertise spans hundreds of industries and applications.