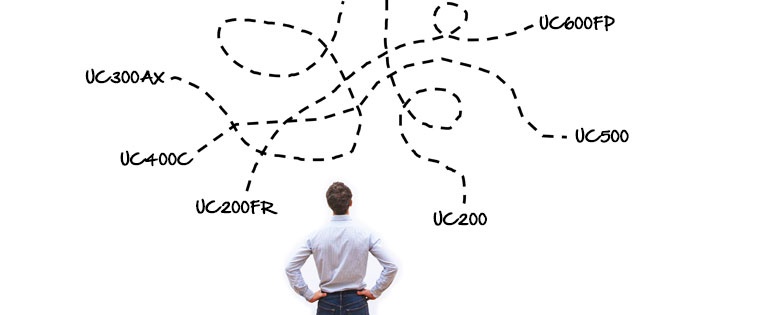 Ultracomp is a family of laminate wound bearing materials with migratory lubricants added to the resin system. All Ultracomp bearing materials are high load, low speed materials designed to operate in extreme conditions without additional lubrication.
Most competitors use a wet-wind system, but Ultracomp uses a prepregnated fabric system. Prepreg is a cleaner and more efficient manufacturing system, as wet-wind processing results in a loss of properties; in other words, the wet-wind process reduces the performance of the resulting bearing.
Ultracomp is constructed of synthetic resins and reinforcing fibers and each variant uses one of three migratory lubricants:
1. Graphite
2. PTFE
3. MOS2
Here's a breakdown of the core Ultracomp products
UC200
Description: Designed for high load, high impact, slow speed, and vibratory applications. UC200 has excellent abrasion resistance, does not require lubrication, and has extremely low moisture absorption.
Resin and Lubricant: Bearing Grade Polyester / Graphite Composite
Applications: Oscillating and sliding applications.
UC300
Description: Similar in construction to UC200, with PTFE lubricant added to the resin matrix to reduce its coefficient of friction.
Resin and Lubricant: Bearing Grade Polyester / PTFE Composite
Applications: Rotary or linear applications
UC400
Description: Similar in construction to UC200 with moly lubricant
Resin and Lubricant: Bearing Grade Polyester / MOS2 Composite
Applications: Slow rotary, salt water, and dry oscillation applications
UC500
Description: Unique interwoven laminate using PTFE, polyester fibers, and graphite lubricant.
Resin and Lubricant: Bearing Grade Blended Fiber / Graphite Composite
Applications: full rotary applications where self-lubricated low friction and long wear is required.
Other Varieties
There are a number of other varieties of Ultracomp, designed to be used in specialized situations. An example of this is UC200FR which has similar performance characteristics to UC200 but utilizes a special resin fabric which makes it fire resistant. Another variation is UC300AR, which is similar to UC300 but is manufactured with a resin with a higher temperature rating which allows it to operate at a peak temp of 340°F (versus 325°F for regular UC300).
Learn More About Ultracomp
We encourage you to read our Ultracomp case studies, search through our past blog posts, and watch our online videos to learn more about this versatile product line. If you have any questions about Ultracomp just let us know and we'll put our bearing experts on the case.