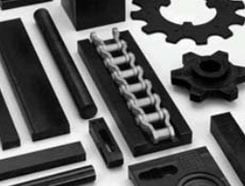 A question was recently posted to our portal asking about Trilon as a custom component. Trilon is a modified-UHMW that gives superior wear in highly-abrasive environments. The material is available in variety of formulas, and can be fabricated in the field, or easily customized in-house using carbide or diamond tools. Trilon excels in industries where durability and longevity matter; including mining, pulp and paper, and timber handling. Explore our Railroad White Paper to review how custom Trilon FR components delivered superior fire resistance to a mass transit system.
Both Trilon AR and FR give nearly double the wear life of virgin acetal, and up to four times the wear of nylon. And since Trilon has a dynamic friction of just .07, the material requires less energy to drive systems ― which can help lower your operating costs.
Look to Trilon for:
Lightweight alternative to stainless steel (8x lighter)
Self-lubricating properties that "polish" mating materials to reduce friction
Abrasion, moisture and all-weather tolerance
Lower operating costs
Ask our design Experts for a quote on Trilon custom components today!