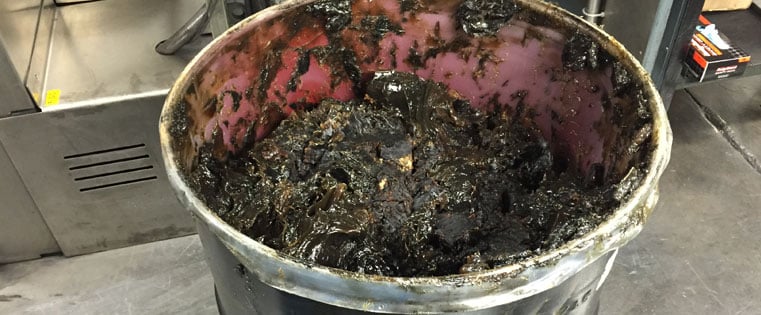 It's a fact that bronze bushings require abundant amounts of lubricating grease to keep industrial equipment running. But have you ever wondered just how much grease they need? We did, so we asked a client to show us the sludge that was left behind after a routine cleaning. Since a picture is worth a thousand words, today we want to share this incredible image. Even our experienced designers were amazed at the amount of greasy sludge that was removed!
An entire barrel of grease. Nearly 400 pounds.
That's the amount of excess lubricant our partner removed from just one machine during routine maintenance of their bronze bushings. In this case, our client had two full-time workers assigned to degreasing their manufacturing and packaging lines. Because bearings that are left with excess grease are prone to seizure which can lead to a halt in production.
Once our client replaced the high-maintenance bronze with no-maintenance plastic bearings, they realized immediate production gains. They were able to reassign the maintenance crew to other areas of the line, and experienced far fewer work stoppages. Ultimately, our partner estimates they will recover over 2,000 hours a year in lost labor. And their plant will provide a greener footprint.
Is it any surprise that they decided to say goodbye to bronze bushings forever and switch to greaseless plastic composites?
Want to learn how you can end bearing lubrication? And save a barrel in maintenance costs? Ask the plastic composite bearing experts ― we can help!