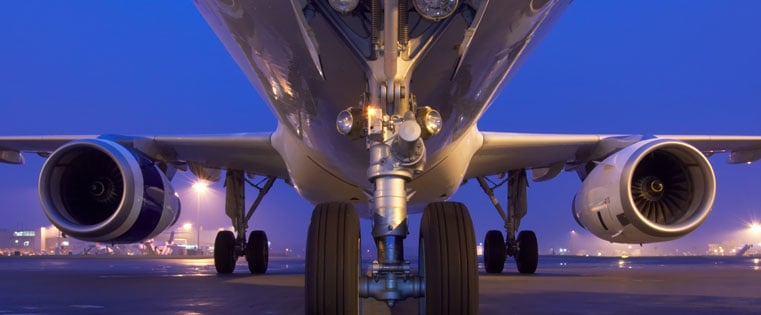 Aircraft bearings have strict requirements for quality and performance; they must tolerate massive fluctuations in temperatures, pressurized cabins, tough weather conditions, plus extreme cargo loads. But there are 4 top polymers that are becoming the go-to materials in the aerospace industry. Let's explore the advantages of Ultracomp, CJ, TriSteel and Rulon in various aircraft bearing applications.
When Boeing delivered it's 1,500th 747 in 2014, it was a significant milestone for the industry. The 747 model has been in operation since the 1970s and recently reported its largest order in the last nine years from carrier UPS. As a long-time supplier to the aerospace market, our team has followed these developments closely.
More and more, polymer is replacing traditional metals and bronze in the steering, fuselage, wings and other areas of commercial aircraft. Polymer offers significant weight-reduction properties over metals, and requires near-zero maintenance so that aircraft can spend more time in the air instead of the maintenance hangar. Polymer has good vibration and temperature properties to deliver a solid, all-around design material.
Where will you find polymer aircraft bearings? Applications include:
1) Fuselage and pivot points
With excessive compressive strength of 54,000 PSI plus a unique geometry, Ultracomp UC 200 bearings are used in the joining fixtures of fuselage components, landing gears, gear doors, and high-load pivot points used on these unique assemblies.
CJ bearings are another popular choice to replace metal bearings on pivoting lift cylinders.
2) Landing components
To extend service life beyond that of metal, our engineering team designed Rulon LR landing wear bands for the oleo struts (hydraulic shock absorbers) of small aircraft. Rulon easily tolerates high-side load and environmental exposure to excel and provides service life beyond metals.
3) Bonding of engine wire clips
We recently helped a client increase the rubber-to-metal bond of their engine wire clips via surface plasma treatment. Plasma was used to "superclean" the aluminum strips and prepare them for the rubber covering. After this process, we added a special primer coat to further enhance the bond strength. This treatment presented a virtually indestructible rubber-to-metal bond without delamination; one that our client expanded to their jet fuel and hydraulic lines. Submit a Surface Treatment Design Worksheet for a custom quote.
4) Steering gear of aircraft tug
All-weather and vibration-resistant, TriSteel bearings are an ideal replacement to improve the maneuverability of the steering gear of aircraft towing vehicles. They offer a dual-layer design to increase performance properties.
Do you have an aircraft bearing challenge? Fly on over to the Materials Database for detailed technical specs.