1 min read
Q&A: Causes of Bearing Failure: Metal Brinelling

Dave Biering January 19, 2016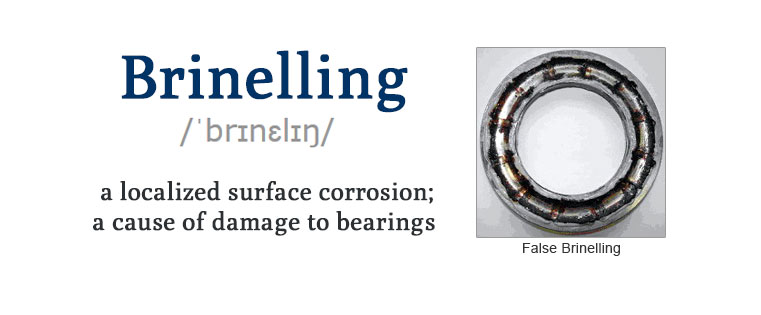 How does brinelling cause bearing failure in metal?
Some of our best questions come directly into our Ask the Experts portal, and this one is a prime example. Today, we review brinelling, which is a key cause of bearing failure in metals. Along with lubrication, fatigue, and corrosion, brinelling failure causes costly and premature bearing wear.
Here's how you can avoid it.
How does brinelling cause bearing failure in metal?
Brinelling is described as indentations or marks in the metal racers of a rolling element bearing. It is named for the Brinell scale of hardness. Brinell marks can indicate a number of issues. They can show that a bearing load was excessive for the material selection, or that the bearing was improperly installed which led to a misalignment. Brinelling can also indicate that the bearing may have been contaminated with debris. Brinelling marks can even present inside bearings in cases where dust or other contaminants are present.
Brinelling falls into two categories:
True Brinelling – points to a bearing load that exceeded the elastic limit of the bearing material.
False Brinelling – takes the form of a depression around the race that is caused by vibration or swaying between the rolling elements and the races. This form of brinelling is common in non-rotating applications such as lift and tilt.
In both true and false brinelling, lubrication is not a friend.
How can I avoid brinelling?
Our recommendation is to consider polymer bearings. With a simple, one-piece design, polymer bearings eliminate racing and metal-on-metal contact. Polymer also incorporates high-elastic values to resist compression and depression, and give better friction tolerance.
Need to eliminate the cause of your brinelling failure? Submit your application specs to explore the right polymer bearing for your application.