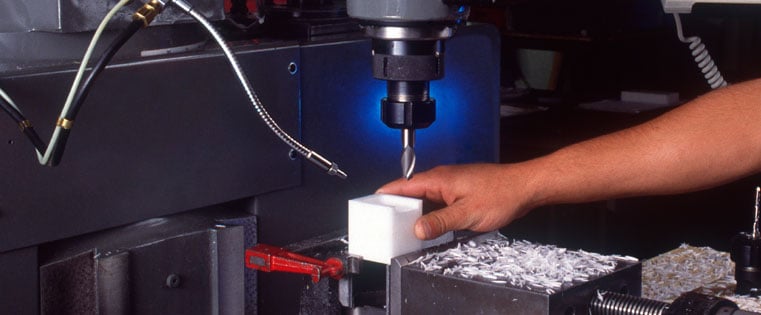 Ever tried to machine UHMW? It's no easy task given the material's instability. In fact, UHMW has 12x the expansion rate of steel. Controlling heat with the right coolant and tools is critical. Let's review some techniques:
Ultra High Molecular Weight (UHMW) polyethylene is a semi-crystalline polymer that offers good abrasion and impact resistance plus a low coefficient of friction. It's flexible enough to excel in both wet and dry environments with good wear and service life. These are the pluses.
But one of the negatives that we often hear about is that the material is incredibly hard to machine; particularly for those shops who are new to plastics. Yet machining is a must, since the material is impossible to mold. Like all polyethylenes, UHMW has a low melting point (270°) and a high COF (120 x10" IN/IN/ÜF), which all contribute to the challenge.
Limit heat!
For best results, it's critical to reduce heat buildup, since the very act of machining generates friction, and thus, heat. An accumulation of heat presents dimensional challenges where your cutting tool can instead become a "melting tool." To avoid this challenge, consider these techniques:
Drilling:
Drills with twist angles of 12°-18° and with large flute areas will help remove chips and heat from the drilling hole

Grinding relief onto the drill will also reduce friction. Angles will vary by material, but 20°-50° is a good starting point

Remove the drill from the hole (pecking) frequently to remove chips and give the material a chance to cool slightly
Milling and Cutting:
Climb milling is recommended over conventional milling

To reduce chatter marks from vibration and moving, use vacuum systems or fixture clamps. Double-sided adhesive tape is another option to keep parts stable.

Sharp tools are critical, and avoid tools that have been used to drill metal, as they are dull and will impact tolerances and surface finishes
Sawing:
Rip and combination blades with a 0° tooth rake and 3°-10° tooth set are best to reduce frictional heat
Hollow ground circular saw blades without set will yield smooth cuts up to 3/4" thickness
Tungsten carbide blades wear well and provide optimal surface finishes
Speeds and feeds:
Feed speeds can range from 10-40 FPM
Cutting speeds of 600-1,000 FPM are required
Use high-speed steel bits with a higher RPM to clear chips
Coolants:
For a premium surface finish, avoid water- and petroleum-based fluids to reduce stress fractures and moisture absorption
Vacuum air blowing is preferred for a tight tolerance. Vacuum keeps cutting tools cool, plus helps reduce dust from chip evacuation.
Without the right heat levels, you risk an uneven surface finish and an accumulation of plastic debris (burrs). For more UHMW machining techniques, get the Guide to Machining and Custom Fabrication!