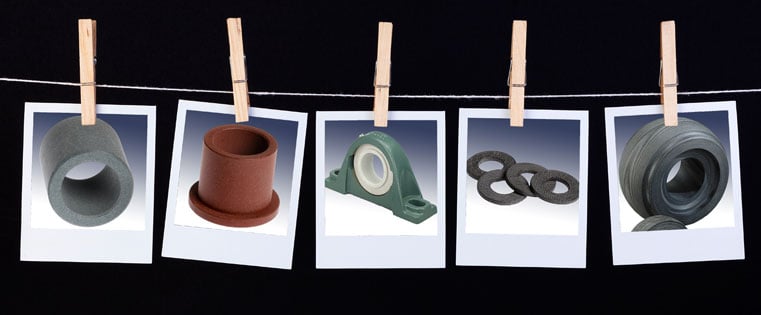 I've just returned from a great week of customer visits, and had some interesting conversations along the way. At one site, I was asked about the different types of plane bearings and their common uses. Plane bearings offer a simple design, yet a complex design envelope. They are a great choice for industrial applications where high-load, long-life and low-maintenance are critical to performance.
Here's a quick recap of the primary plane bearings and common uses:
Although simple in design, plane bearings (not to be confused with plain bearings), can be customized to deliver enhanced properties. Need uncommon strength or extreme durability? A reinforced liner can be easily added. Want to match the surface finish of other hardware? A close match can be achieved via machining. See the Rulon plane bearing selector guide.
5 Types of Plane Bearings:
Sleeve bearings - Sleeve bearings are the most-common type of plane bearing, and support linear, oscillating or rotating shafts. They function via a sliding action.
Flange bearings - Flange bearings support a shaft that runs perpendicular to a bearing's mounting surface. The flange (or rim) of the bearing can also be used as a locating mechanism to hold a sleeve bearing in place. Flange bearings reduce friction between surfaces in rotary and linear movements.
Mounted bearings - To achieve an ideal fit, mounted bearings must be designed exactly to spec. Mounted bearings that fit too loosely can creep or slip on a shaft. Or if the press fit is too tight, free movement can be impeded. To eliminate this concern, plastic plane mounted bearings are available in pillow-block or flange housings, in forms ranging from 2-4 holes.
Thrust bearings - These plane bearings are designed with a simple washer to prevent metal-to-metal contact in a thrust load application. Plastic thrust bearings are thin, easy to install and self-lubricating to reduce maintenance costs.
Spherical bearings - Spherical bearings rotate from two directions to compensate for any shaft misalignment. They are typically called on to support a rotating shaft that calls for both rotational and angular movement.
Where will you find plane bearings? They have a wide application range covering everything from hygienic FDA/USDA/3A/NSF environments to dirty, wet environments.
Typical industries include:
Automotive
Agriculture
Off-road/Construction
Marine
Food Processing & packaging
Want to explore design options for plane bearings? Check out Bearing Design: A Guide to Form, Function and Selection, or watch the highlight video (emdedded below) for a quick review.