Rulon® 1439 Solves Turbine Flow Meter Bearing Issue
TriStar Plastics recently worked with a customer who manufactures several styles of turbine flow meters to solve a bearing problem. On this product, the meter body and shaft support are made from 316L stainless steel, and they were using sleeve bearings made from a special grade of tungsten carbide.
The Food-Based Liquids Being Measured Required a Better Material Solution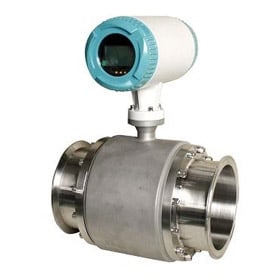 While this is typically a good combination, the product mix used through the flow meter can vary from milk to beer to highly viscous fluids. Since these meters depend on uniform flow so that the magnetic pickup can properly measure, any stiction or abrasive wear in the bearing interface can be a problem.
TriStar engineers looked at the operating conditions and potential issues from using a polymer sleeve bearing instead of the tungsten carbide and found a couple of options. Since these are sanitary applications potentially requiring FDA, 3A and NSF clearance, we looked at two Rulon materials - Rulon 641 and Rulon 1439.
Self-Lubricating, Low Friction, Runs Wet ─ Rulon 1439 Proved to Be the Best Fit
While both materials meet the regulatory requirements, can run wet against 316L stainless, will not absorb moisture, and both will cover a broad range of operating pressures, speeds and temperatures – we selected Rulon 1439 because it has the edge running in wet environments. In fact, Rulon 1439 has proven itself to be a long wearing bearing and seal material in many "wetted" environments on sanitary pumps, valves, pipe seals and flow meters.
Rulon 1439 is self-lubricating and with its extremely low friction, it eliminates stick slip in those unplanned operating situations that can cause shaft to sleeve bearing interference.
The Problem was Solved with Additional Benefits Realized
The customer reported additional benefits with the new bearings, including quieter operation, more uniform flow rates, and the elimination of potential counter-face debris generation into the product. TriStar's expertise in polymer bearing materials provided the solution needed to maintain proper flow in varying product mix applications for these turbine flow meters. If you have a similar application that requires a reliable and durable bearing material, TriStar engineers are ready to assist.