High-Performance Bearings and Seals Advance Oceanic Research
Our planet is predominantly covered by water, with oceans accounting for 71% of its surface area, representing an immense 324 million cubic miles of water. The health and sustainability of these oceans are vital for the survival of our planet and TriStar has been fortunate to be involved with both private and government entities that work to better understand all that is going on in our watery world.
Our Expertise Has Enhanced Many Applications – From 1300+ Deployed Buoys to Autonomous Robots Cruising the Seas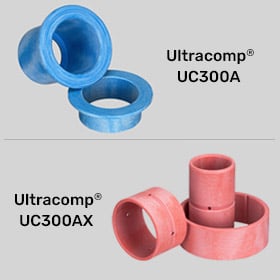 When designing equipment for underwater use, careful selection of bearings and seals is critical. This is where TriStar comes in. On buoys, our role has typically been selecting and custom-engineering bearings and thrust washers used as part of the subsea connections and controls of the systems that map and analyze our oceans.
Scientists gather a lot of critical data from these units – including water and air temperatures, wave dimensions, pollution trends, and weather and current patterns. These buoys contain tsunami alert sensors, live streaming cameras, and even equipment for monitoring shipping lanes for illegal dumping.
Our Ultracomp® 300A and 300AX products are the most suitable materials for these systems for several important reasons:
They do not absorb moisture so they're dimensionally stable underwater.
Ultracomp is equally effective in both Arctic cold and Caribbean warm waters without degradation or loss of dimensions.
They are non-corrosive in the high salinity of the oceans because they do not sustain any cathodic reaction with metal hardware.
These materials are ideal for the high loads and low oscillating or linear motions required for these applications.
They are easy to machine into complex components.
Ultracomp materials are self-lubricating in dry service.
As Ocean Science Advances, New Applications Emerge to Increase Our Understanding
Other innovative applications in ocean studies include new autonomous wave-runners, mobile buoys that work much as the static buoys do while also traversing many nautical miles. In addition, similar systems are used in defense related applications by governments around the world. TriStar has even developed a specialized long-life material for use in the steering systems and connectors on these unique robots.
There are numerous other marine applications where Ultracomp materials shine, some of which are highlighted here. In addition, Ultracomp excels in many other linear, oscillating, and rotary applications – in industries ranging from agriculture to oil & gas. As always, TriStar engineers are eager to help you find the right material solution for whatever environment and level of performance you need.