Supply Chain Issues and Sourcing Cryogenic Polymers
Global supply chain issues have affected almost every aspect of our lives. The plastics world is no exception and is under weekly pressure for price increases as oil and natural gas costs show continued volatility.
One area of great concern for a certain segment of industry is in cryogenic equipment where PCTFE (formerly Kel-F®) has been a critical material. As things stand, new orders for this resin will not even be accepted until the 2nd quarter of 2023 (perhaps even later).
So, what to do in the meantime?
TriStar has many customers facing this dilemma and we have put together a chart showing potential cryogenic-capable material alternatives for seals, seats, gaskets, and structural components.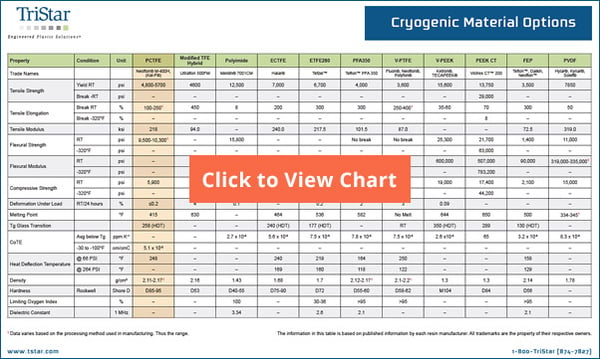 PCTFE is so unique that in some cases it could be considered irreplaceable but desperate times require desperate engineering! This chart primarily shows fluoropolymers but also includes the new cryo-friendly PEEK product on the market, PEEK CT.
Since every application has different needs in terms of physical properties, thermal properties and manufacturing processes, sourcing replacement cryogenic materials will require an application-by-application review.
TriStar engineers have been deeply involved in these evaluations on an ongoing basis so we invite you to contact us and let us share what we've learned. Even some of these alternative materials are in short supply or facing long lead times, so challenges abound.
We stand ready to help you find options to fit your needs.